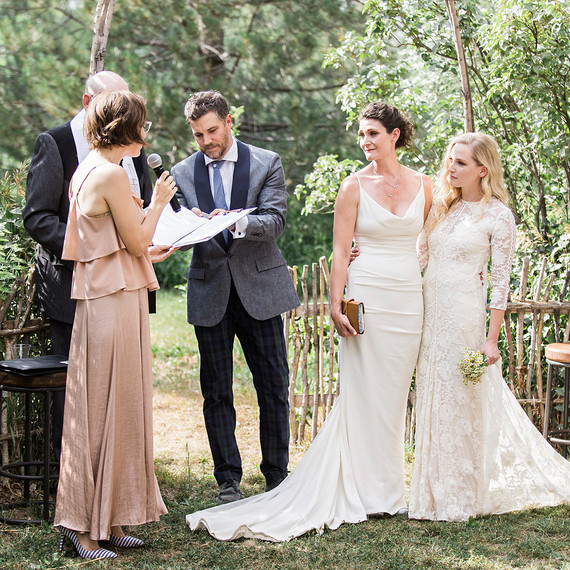 Wedding planners love to work on ceremonies and reception all year long, but there's something about spring nuptials that really gets pros excited. They mark the start of a new wedding season and a year filled with creativity, hard work, and a lot of celebration. Here are seven reasons why your planner is especially excited for your spring "I dos." 
They're generally less busy.
Spring tends to be a slower season for weddings since many couples are nervous about the potential for rain. This means wedding planners are more likely to feel like they can take their time dreaming up an event and don't feel over-worked this time of year. Plus, after a quiet winter, the pros feel fresh and ready to tackle new celebrations.
Logistical planning can be way easier.
It's not high season for tourists in the United States, so it's easier to book blocks of rooms at hotels and transportation for a large number of people. In general, it's easier to get around without too much trouble, so coordinating the couple and their guests tends to be simpler.
They can embrace the colors and flowers of the seasons.
Between the abundance of seasonal flowers and the creative color palettes that speak to spring, there's no shortage of inspiration for planners to work with. Seasonal influences are in abundance, and that will get any pro's ideas flowing. Plus, a spring botanicals theme never goes out of style.
The menu tasting is especially exciting.
Yes, your wedding planner loves the menu tasting just as much as you do. Since spring is all about fresh, bright flavors, you'll all tuck into a flavorful menu packed with delicious, in-season meals.
Their plans can include outdoor spaces.
Sure, there's always a chance of having less than perfect weather on your big day, but most spring weddings can utilize outdoors spaces again. From planning an open-air ceremony to an al fresco cocktail hour or reception dinner, your wedding planner will be so excited to work in the outdoors again for any length of time.
Rain plans aren't actually that big of a deal.
Any good wedding planner will insist you come up with a contingency plan for any events taking place outdoors, but the good news is that these rain plans are easy to strategize and easy to implement, and even more fun when they're not needed on the day-of.
Fashion is way more fun.
If there's one thing every planner looks forward to, it's springtime wedding party and guest attire. Colorful dresses and lots of pattern play are practically guaranteed.