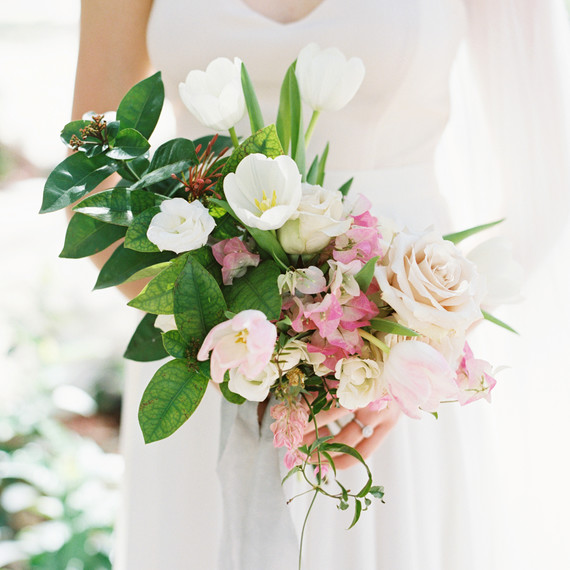 Ask any wedding florist and they'll tell you springtime is the season they look forward to most. With so many gorgeous flowers in bloom, there's no shortage of options to use in fresh, seasonal bouquets. But if they had to narrow it down to their top floral picks to add into a springtime arrangement, what would they be? We posed that exact question to three florists: Dallas Wildeve of Bloomsbury Blooms, Tatiana Kraft of Whimsy Weddings, and Chad Cannizzaro Jr. of Carroll's Florist. Read on to see their favorite blooms to use in a spring bouquet—we bet your big-day florist will agree with their picks.
Blooming Branches
No one appreciates spring foliage more than an Alaskan, so it's no wonder Wildeve, who is based out of Anchorage, has a unique favorite. "I love tulips, daffodils, lilacs, and all the other spring flowers, but my favorite things to use are the flowering branches," she says. "There's just something those branches covered in tiny blossoms." Wildeve points to the quince and cherry branches as her favorite foundations for a spring bouquet. 
Tulips
Tulips are spring staples for a reason—their bright, cheerful flowers are a welcome greeting after months of cold, gray snow. But Kraft admires even more than just their color. "They have such gorgeous textures, especially parrot tulips," she says. While some may consider the tulip to be more of a potted plant, Kraft insists they hold their own in a bouquet. "They give so much dimension, creating that loose, bouncy look that is so timeless," she adds. As for the pro's least favorite? "I wish people would give up on baby's breath already. I feel like spring comes and everyone wants it. I don't understand!"
Garden Flowers
The most common spring blooms—the ones that are likely popping up in your own backyard!—are popular for a reason: They're gorgeous. Among his list of favorite flowers, Cannizzaro includes peonies, ranunculus, parrot tulips, and hyacinth—a category commonly referred to as "garden flowers." Basically, any flower grown strictly for its beauty falls into this lot, so picking from this bunch is a no-brainer.