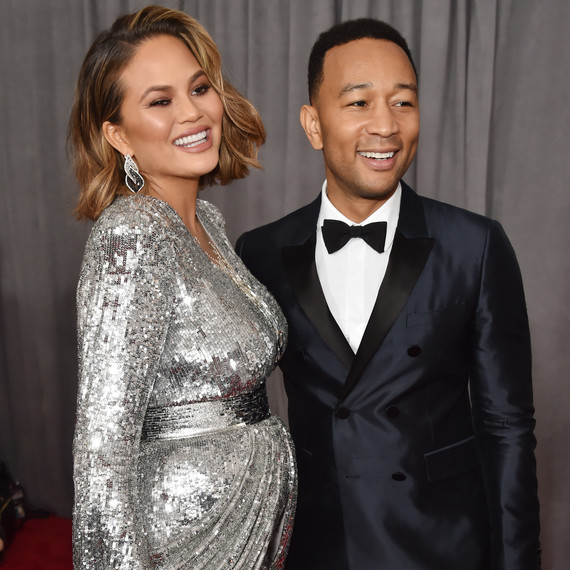 On Valentine's Day, celebrities really are just like us—they're eager to celebrate their commitment to their partners. While we're sure all of our favorite Hollywood duos are off toasting their relationships, we were particularly taken by the twosomes that rang in the holiday with a public display of affection. From Barack and Michelle Obama to Kanye West and Kim Kardashian, here's how a few of our beloved celebrity couples honored each other on the day of love.
Barack and Michelle Obama
Leave it to the former POTUS and FLOTUS to take personalized Valentine's Day gifts to the next level. Michelle Obama curated an emotional playlist, titled "Forever Mine," for her husband of 25 years, which she made public on Instagram. "Happy #ValentinesDay to my one and only, @BarackObama. To celebrate the occasion, I'm dedicating a little Valentine's Day playlist to you!" she wrote in a post. The playlist—which features classic love songs like Etta James' "At Last," Stevie Wonders' "You and I," and James Taylor's "Something In The Way She Moves"—was clearly well received. The past president followed up his wife's sentiment with a touching Instagram post of his own. "Happy Valentine's Day, @MichelleObama. You make every day and every place better," he wrote.
Chrissy Teigen and John Legend
This power duo also wove music into their Valentine's Day tribute. Chrissy posted a video of her and John singing Frank Sinatra's "The Way You Look Tonight" for Love magazine. The duo, who are expecting their second child, look more in love than ever—and definitely nailed the Valentine's Day song choice.
Kim Kardashian West and Kanye West
These two are known for their grand gestures (take the reality's star 15-carat engagement ring, for example), but it looks like they're keeping things low-key this holiday. This makes sense, considering Valentine's Day fell shortly after the birth of their third child, Chicago. Kim took some time away from adjusting to life as a family of five to pen a short and sweet note to her husband. "I love you to infinity! Happy Valentine's Day!!!" she wrote, alongside a paparazzi snapshot of the pair.