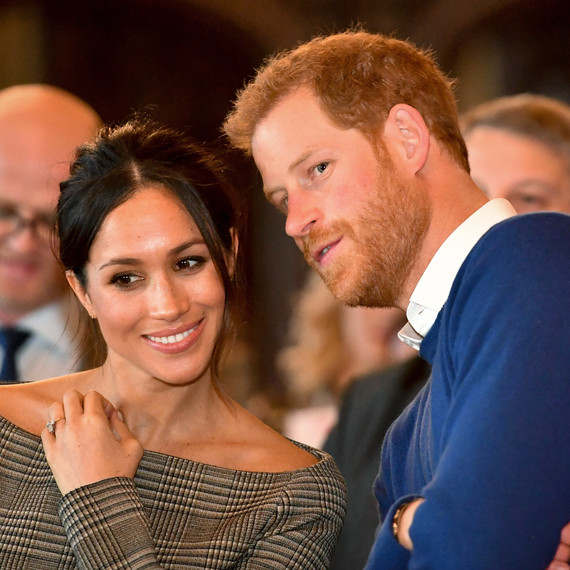 How will Prince Harry and Meghan Markle spend their first engaged Valentine's Day? Based on their schedules, it looks like the duo will enjoy the holiday abroad. Kensington Palace just announced that Harry and Meghan will continue their tour of royal engagements right up until February 14th, People reported.
"Prince Harry and Ms. Markle will visit Edinburgh on 13th February," the notice read, before revealing the details of their work-filled trip. The duo will visit Scotland's Edinburgh Castle before visiting a youth café run by Social Bite, an organization that fights homelessness. They'll end their official royal duties at the Palace of Holyroodhouse, with the Scottish Year of Young People gala (an event that celebrates youth achievement). But it hasn't been made clear whether the couple will remain in Scotland through February 14th—they'll be 400 miles from home—or voyage back to Nottingham Cottage at the end of the day.
We have a feeling that they'll stay and enjoy the privacy, but there's also good reason for the couple to return home to celebrate their first (and only!) engaged Valentine's Day. Prince Harry popped the question in his Kensington Palace residence back in November, while he and Markle were roasting a chicken. The two haven't been shy about how special the moment was. "It was just an amazing surprise, it was so sweet, and natural, and very romantic," she shared during their first official interview. "He got on one knee." 
Harry added that his wife-to-be was so excited that she barely let him finish popping the question. "She didn't even let me finish," he explained. "She said, 'Can I say yes? Can I say yes?' And then were was hugs and I had the ring in my finger and I was like, 'Can I give you the ring?' She goes, 'Oh yes, the ring.'" Despite their serious relationship, Harry also said that Markle didn't see the proposal coming—which makes the at-home moment that much sweeter. "I think I managed to catch her by surprise," he said.