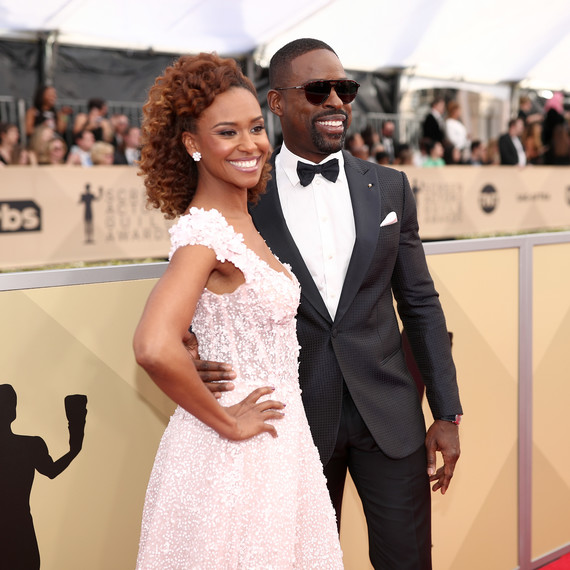 Sterling K. Brown and his wife, Ryan Michelle Bathe, have been in each other's lives for longer than we thought. At the 2018 SAG awards, Bathe revealed that she and the This Is Us star first crossed paths during their freshman year at Stanford.
"We were in the same dorm freshman year...that's kind of how we met," Bathe told ET Online. "I was mesmerized." Her fascination peaked, though, when she saw her future husband act for the first time. As she watched Brown audition for the play Joe Turner's Come and Gone, she knew she'd found an incredibly special person. "You were 18 years old, and the things that this man could do at 18," she continued. "Everybody's like, 'Oh, Sterling is amazing. He's amazing.' And I'm like, 'He hasn't even scratched the surface.' At 18 years old, he got on the stage, and wasn't even off book, and was Joe Turner. He was 18!"
Bathe also ended up with a role in the play, and the now-duo quickly became friends after being blown away by their similarities. "We would ride bikes to rehearsal, and we would just talk. We found out that we were both from St. Louis. We didn't know that we were both from St. Louis, like, our parents went to rival high schools. We were born in the same hospital. Like, we were friends," said Brown.
Brown had some competition up front, though. "She was dating somebody. Of course she was, she's gorgeous. So we were just buddies. We were homies before everything else, and then it grew," he said. The actor didn't explain exactly how (or when!) their relationship turned romantic, but, based on his most recent award acceptance speech, he's more than grateful for that moment. "I love actors so much, I decided to marry one. You're the best scene partner a brother's ever had," he said on stage, after winning Best Drama Actor at last night's SAG Awards.