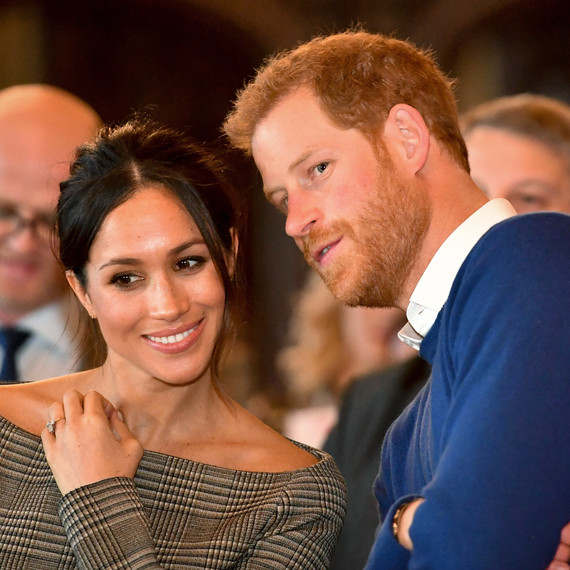 Prince Harry and Meghan Markle just completed one important wedding-planning task: The royal couple tasted their first wedding cake, but the event was totally impromptu. While on an outing in Wales yesterday, they were presented with a celebratory "wedding cake." Unfortunately, the gesture was a little cheesy.
According to People, the Welsh wedding cake wasn't made using fondant or buttercream. Instead, it was composed of layers of cheese from Snowdonia Cheese Company! When Markle saw the display, she asked, "Oh my goodness, how sweet is that?" and then proceeded to try a piece from the assortment, which she deemed "really delicious."
Does this mean that the prince and the former actress are considering a cheese cake for their own celebration? They wouldn't be the first—we've featured more than one. Traditionally, royals opt for classic confections with a top tier of fruit cake, which they preserve for their first child's christening. But Harry could choose to have a groom's cake like his brother, Prince William, did.
When they aren't tasting cakes, Harry and Meghan are reportedly engaging in another part of wedding prep. An Us Weekly source revealed that they're currently planning their honeymoon. "At the moment nothing has been booked, but expect a decision to be made within a month," the insider shared. Don't hold your breath for a reveal, though. The selection process is highly confidential, and if the location's made public, they'll "pick a new destination." We do have one little lead: "Both [of them] want to be somewhere hot and sunny for two weeks," the source disclosed.