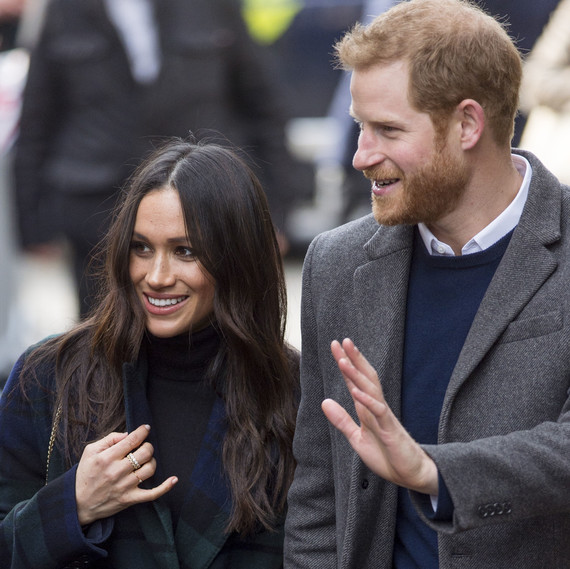 You'd be right to assume that being part of the British royal family comes with some pretty awesome perks, especially on the gift front. Come May 19, Meghan Markle will officially experience those privileges and more as Prince Harry's wife, but it looks like she's already getting a taste of that special treatment. According to the royal family's public list of gifts—every January, they release a complete round-up of all the gifts they receive throughout the calendar year—Markle has already received her first gift, and, based on the timing, it seems like it was likely an engagement present. 
If you were expecting a crown, a corgi, or an estate, think again. Markle's reported engagement gift was remarkably practical and likely something you have in your own home. The future royal's first official present was an apron, which she received just two days after announcing her engagement. Prince William accepted the gift on Markle's behalf during an official visit to Finland. The apron, although simple, was actually perfectly suited for the bride-to-be, who said yes to Prince Harry's proposal at home in the kitchen, while the couple was roasting a chicken and watching television.
While it's likely that Markle's gifts will get slightly more extravagant from here on out, this is just another sign that the public has embraced her as a royal-to-be. That acceptance started at home, within the royal family itself. Prince Harry and Markle have openly described how helpful Prince William and Kate Middleton have been in making the future Duchess feel welcome in a role she never expected to fill. After the duo announced their engagement, the Duchess of Cambridge announced her full support. "William and I are absolutely thrilled. It's such exciting news. It's a really happy time for any couple and we wish them all the best and hope they enjoy this happy moment."
The world is just as excited about the couple's nuptials. On Markle's first official royal outing, she got the chance to speak to many adoring fans. "They are a lovely couple. They looked lovely together," one fan said. "This is something different," said another. "It was good with William and Kate—and this is the equivalent."