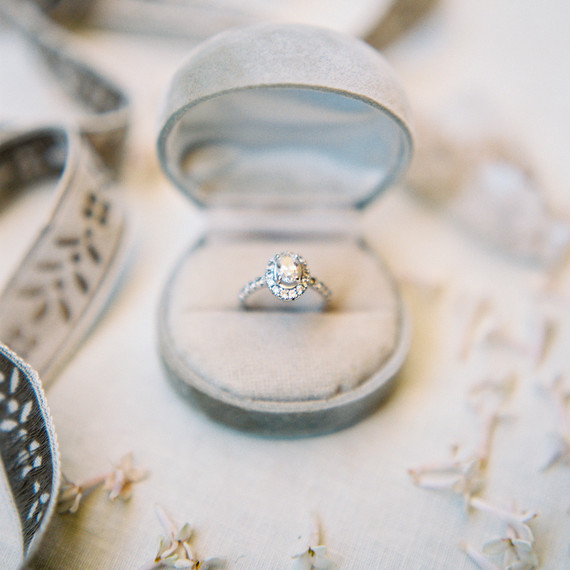 You've popped the Champagne, accepted countless well wishes from your squad, and taken more photos of your left hand than you'd like to admit. Great! You've properly and thoroughly celebrated your engagement. If you're in no rush to wed, then by all means feel free to continue toasting your new relationship status. But for those ready to dive in, getting started can be the hardest part. That's why we asked two seasoned wedding planners to outline exactly what you need to do right now, whether you're looking to get hitched in three months or three years. January is the month of resolutions, after all. Cross these eight items off your to-do list before spring comes around and you'll be well on your way to the perfect celebration!
Set your vision—and budget.
When you and your future spouse are ready, carve out time to discuss what each of you imagine for your big day. (Unsure? Snap up a few bridal magazines or browse through Pinterest for ideas.) Then, move onto the tough stuff. "Discussing your wedding budget may be a tricky, and quite often stressful, conversation," admits Kristine King, president and lead event director at Kristine King Events. But that price tag "will affect many, if not all of your planning decisions." She says couples should sit down with their families (if they're contributing) and hash out who's paying for what and how much they're comfortable shelling out: "It can save a lot of stress and confusion later."
Insure your bling.
Not the sexiest of tasks, but very necessary, says King. Check with your homeowner's or renter's insurance to see if they offer a plan to protect your ring from theft, loss, or damage.
Make a preliminary guest list.
The number of invitees will influence pretty much every decision that follows, and it will be one of the first questions asked at most venue scouting appointments. Have both families send in lists (with current addresses for potential invitees!) then set up a master spreadsheet, recommends King. Your final guest count will surely change based on budget and venue restrictions, but organizing your dream list from the start makes every other decision easier. Plus, once you're able to start sending invitations, you'll have everyone's names and addresses readily available.
Save the date.
Before you start venue-hunting, try to narrow down when you'd like to wed by thinking about which season you'd prefer and ruling out any major holidays or family events you don't want to conflict with. "Keep in mind," says Laura Weatherly, founder of Engaging Affairs, "if you select popular months such as May, June, September, and October, you may pay a premium for the best vendors or have less of a selection."
Find a planner.
If you're going to go this route, it's key to select a wedding planner before booking anything else, notes Weatherly, because a good one can steer you to top-notch vendors and usually score special deals. Plus, says King, "They will be able to guide you week-by-week in the wedding planning process."
Check out venues.
Making this first crucial choice will help a lot of other details fall into place. Weatherly also notes that the venue you choose will likely be the main factor in determining your wedding date. As you're researching potential options, think about your ideal style—are you more rustic barn, formal country club, or barefoot on the beach?—whether you'd prefer indoor or outdoor vows, and if each space will hold your desired number of guests.
Book popular vendors.  
Once the venue is locked in, says Weatherly, move on to finding the wedding professionals that can only work one event a night—namely, a photographer or band. Decide with your spouse-to-be what's most important to the two of you, recommends King. "If music is a focal point for your wedding day, start researching bands, determine how many instrumental pieces you would like, and attend a few showcases. If you'd like your wedding to be captured by a top photographer or videographer in your area, make those calls ASAP."
Select your squad.
Proposing to your bridesmaids or groomsmen gives you a group of willing helpers or just pals you can lean on when you need to blow off wedding-related steam. Keep in mind, says Weatherly, the sides don't need to be even and you can also ask other friends to serve as ushers or participate in the ceremony in other ways. Also, she notes, "bigger wedding parties means more flowers, dresses, and hair, and makeup costs, so if you're trying to stick to a budget, keep the party small."