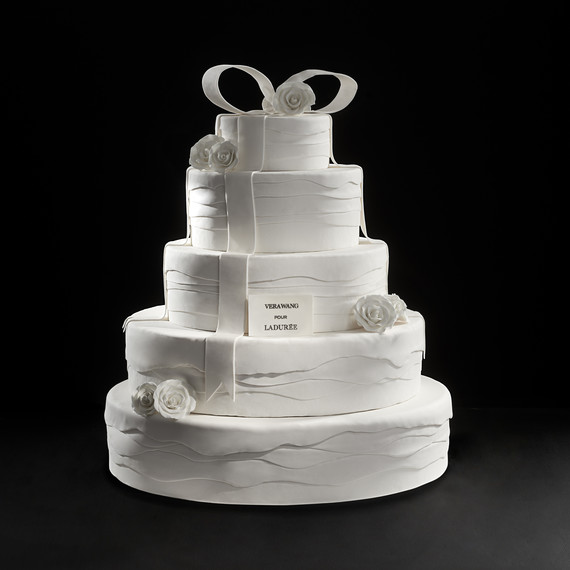 If you're getting married in 2018, you have to put the latest designer collaboration on your radar. The inimitable Vera Wang has officially teamed up with beloved Parisian bakery, Ladurée, to launch a limited-edition mango-coconut wedding cake and accompanying coconut crème chantilly macarons. With Wang's extensive bridal design background and Ladurée's century-and-a-half-long legacy, it's safe to say that these confections are going to take the wedding world by storm.
For Wang, this project, inspired by her most recent wedding dress collection, felt like the perfect match. "Creating the macarons and the wedding cake was a surprisingly similar experience to designing and executing a wedding gown," she explained. "The play of proportions, textures, decorative elements, and design also influence the final result of a wedding cake." Also rewarding? Being able to delight brides in a new way. "I was thrilled to collaborate for the first time on such an integral part of the wedding experience," Wang said. "Ladurée was, thanks to their expertise, the perfect partner and allowed me to create my own vision of a bride's special day!"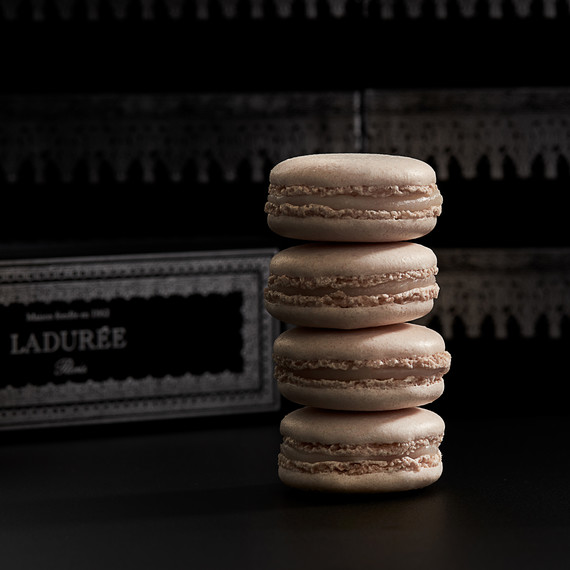 Elisabeth Holder, Ladurée's co-president, felt that same way about working with Wang. "Excited is not the word," she said, when asked about the collaboration. "It was a dream to expand our wedding collections with Vera's vision and input for the cake." Holder described Wang's confectionery designs as "effortlessly chic" and "simple" in flavor. She also noted that this was Ladurée's first time working with a designer on a cake, and that the process was a dream. "Vera is the timeless classic bridal designer who can also do edgy modern fashion so it was a match made in heaven," she said.
The Vera Wang Pour Ladurée wedding cake will be available for one year, making it the ultimate choice for the 2018 bride. To order, email ladureeus@laduree.com.