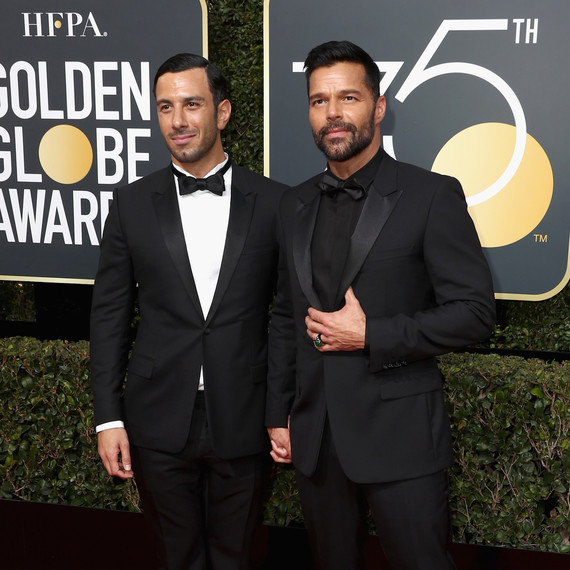 Ricky Martin and Jwan Yosef have officially tied the knot! The Assassination of Gianni Versace: American Crime Story star told E! News that he's assumed his favorite role yet—husband!
"I'm a husband," he said. "But we're doing a heavy party in a couple of months, I'll let you know." Martin didn't get into the details of the couple's secret nuptials, but he did say that they've gone through with all of the formalities. "We exchanged vows, and we've [sworn] everything, and we've signed all the papers that we needed to sign, prenups and everything," he explained. The only thing that's left to do is to celebrate!
And it's going to the quite the celebration. The singer and actor has been touting a massive fête for months, and Martin just reiterated that he and Yosef are going all out with their plans. "[It will be] the typical three-day party, the dinner, the rehearsal, the party, and the recovery. You'll be the first to know," he said.
For Martin, being about to call Yosef his husband is the ultimate reward. "It feels amazing! I can't introduce him as my fiancé. I can't. He's my husband. He's my man," Martin said. He and Yosef began dating in 2016, and announced later that year that they were engaged. He told Ellen DeGeneres that he was so nervous when proposing that it took him 30 minutes to realized Yosef had said yes. "Instead of saying, 'Will you marry me?' I said, 'I got you something!' Bad," the singer joked. "Then he was like, 'Yes.' I said, 'I want to spend my life with you,' and he was like, 'What is the question?' 'Would you marry me?' That's it."