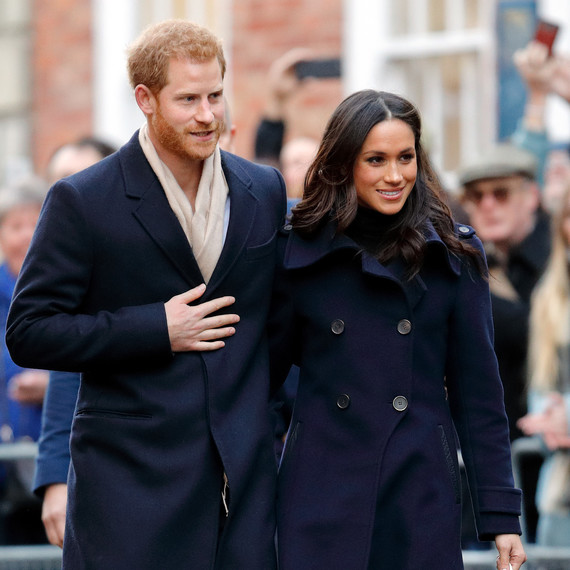 In the race for royal wedding vendors, Jevanni Letford is clearly winning. During Prince Harry and Meghan Markle's tour of a London radio station on Tuesday, the local DJ smoothly slipped Prince Harry his business card. His objective? Securing the title of his royal highness's reception DJ.
A hilarious video caught Letford in the act. "DJ at your wedding, DJ at your wedding," he told Harry, who (understandably) looked rather confused. Letford apparently got hold of the footage and posted it on Twitter. "Just slipped Prince Harry the old business card in a bid to secure that #weddingdj gig," he wrote. The video also shows Markle, who witnessed the entire exchange, chuckling before continuing along on the tour. Hey, you have to commend the guy for trying!
Just slipped Prince Harry the old business card in a bid to secure that #weddingdj gig @KensingtonRoyal @ReprezentRadio @meghanmarkle #triedit #godj pic.twitter.com/Rr4TWkQKIH

— Jevanni Letford (@JevanniLetford) January 9, 2018
The funny moment took place during Harry and Markle's visit to Reprezent 107.3FM, a Brixton-based radio station dedicated to influencing young people by offering trainings in radio and broadcasting. This public appearance marks their first royal outing of 2018, and their second as a couple. Markle assumed her royal duties shortly after news of her and Harry's engagement broke, with a tour at the National Justice Museum in Nottingham in December. With Harry by her side, the Duchess-in-training was introduced to several civic leaders before taking to the streets to greet pedestrians.
Prince Harry and Markle will officially tie the knot on May 19, 2018, which means that the wedding planning is well underway. A source close to the couple told Us Weekly that the bride-to-be wants her mother to escort her down the aisle, and that she's already chosen her maid of honor. Prince William has reportedly scored the role of best man, another source claimed.