It's engagement season, and there's no doubt about it: A handful of celebrity couples just got engaged, including model Afiya Bennett (who recently graced the ads of your new favorite cosmetics company, Rihanna's Fenty Beauty) and actor Lloyd Dickenson.
Dickenson popped the question at Georgia's Stone Mountain Park over the holidays. The couple then shared the news on social media. "I Couldn't Have Asked For a Better Christmas," Bennett posted on Instagram, captioning a photo of Dickenson putting the engagement ring on her finger. "She said yes y'all," the groom-to-be wrote on his account, alongside a video of the pair post-proposal.
Fireworks went off following the proposal, and the couple got to relish the moment with their nearest and dearest by their side. They were on a trip with family at the time, allowing them to celebrate with the ones that they love most.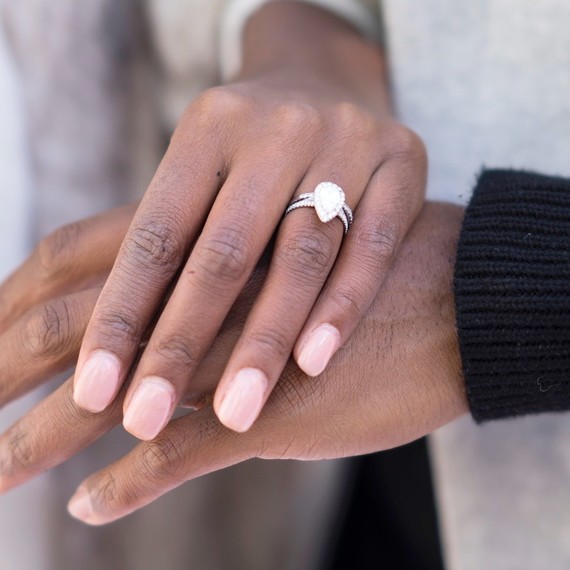 Later on, Dickenson shared a New Year's-themed post of the two, which gives a better look at Bennett's bling. "Excited to bring in 2018 and spend 2018 w/ my FIANCÉ," he happily announced. Now, an even closer look is available. A photo, which was initially shared by People, shows Bennett's big, pear-shaped piece in all its glory.
"When I first saw the ring in the box when Lloyd was down on one knee, my first initial reaction was, 'OMG that ring! It's incredible,'" Bennett told the outlet. "It finally hit me that I was going to be engaged and then someday married; everything was perfect."