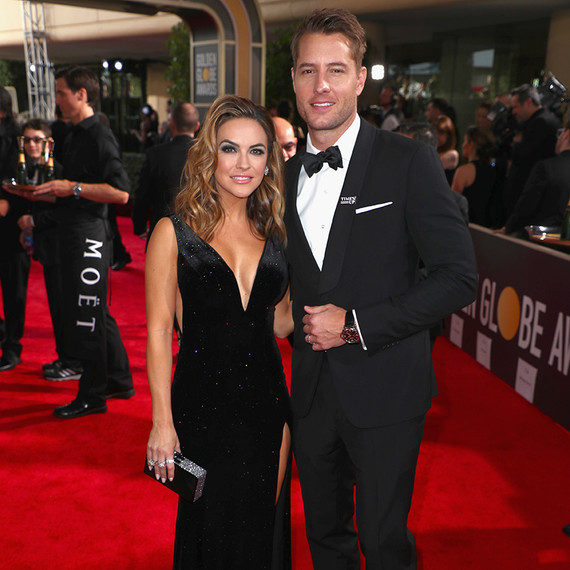 For Justin Hartley and Chrishell Stause, adjusting to married life hasn't been that big of an adjustment at all. Two months after tying the knot, the couple caught up with Entertainment Tonight and shared that marriage hasn't changed their already-strong bond.
"Honestly, the strange thing is, I don't know if this is good or bad, but it doesn't feel that different," Stause explained. "Our life is already so settled and amazing. It had more focus on it, but as far as when we go home, everything is the same." The This Is Us actor couldn't agree more. "It's great. It's amazing," he said, adding that "spending time with my lovely wife" is his favorite pastime. 
Hartley and Stause tied the knot in October with a private outdoor wedding in Malibu, California. Attended by the entire This Is Us cast, their nuptials were quite the family affair. Stause donned a feathered Monique Lhuillier wedding dress, and looked lovely next to her tuxedo-clad husband. Despite the pretty details, all that truly mattered to Stause was officially being able to call herself Mrs. Hartley—which is also exactly what Hartley wanted. "I love the fact that she's going to be my wife. I love the fact that I will have a wife and we'll be husband and wife and live together," he told Us Weekly a few months before the wedding.
Hartley isn't the only This Is Us cast member to recently gush about his spouse. After winning a Golden Globe award for Best Actor in a Drama TV series, Sterling K. Brown took the stage to thank his wife, Ryan Michelle Bathe, for her constant support. "I don't want to run out of time. Let me thank my wife. I love you so much, thank you for supporting me so much," he said.