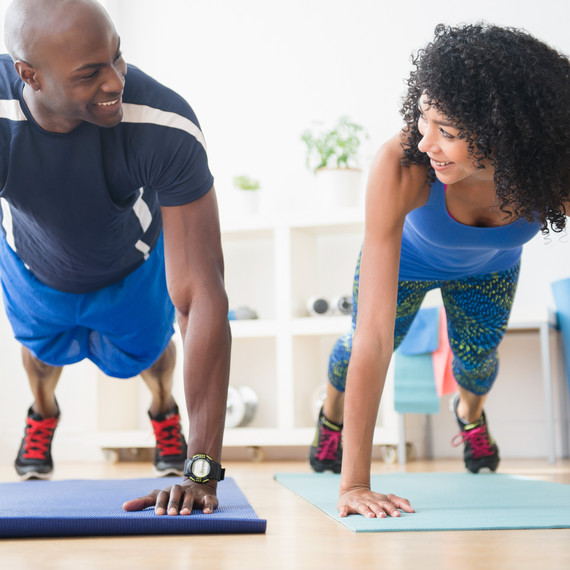 A quick glance at your (always overbooked) calendar will reveal how much additional brain energy wedding planning requires of you. From meeting for premarital counseling to phone dates with your planner to massage out the details, you might find yourself struggling to stay awake past 9 p.m. One way to ensure you keep the happy endorphins pumping is to commit to a workout regimen. Not only will regular exercise help reduce your anxiety levels, but you'll feel more confident when the big day arrives. Don't want to take on the task solo? We don't blame you, since a wedding is a two-person affair. That's why personal trainers and fitness pros recommend persuading your soon-to-be spouse to join in on the sweat.
"Getting your significant other to work out with you means you will have a built-in accountability partner to make sure you don't let the craziness of planning get the best of you. You can set 'dates' for workouts so you're spending time together and hitting your goals. Plus, what bride doesn't want her groom looking and feeling his best on their wedding day and lounging on white sand beaches for their honeymoon?" certified personal trainer and creator of Love Sweat Fitness says. Here's how to get your groom on board with your pre-wedding exercise routine.
Find a class you both like.
Before you allow him to roll his eyes as he envisions Zumba, remind him of the growing influx of boutique workout classes that range in intensity level. From outdoor military-style bootcamps to competitive cycling classes or TRX challenges, you can likely find a common ground that will satisfy both of your workout preferences. It also helps to dip your sneakers into something fresh. As Sarah Rosner, a trainer at Lateral Fitness in Chicago, explains, the element of trying something new will often strike enough curiosity that he'll tag along with you. In addition to the traditional sense of fitness routines, Rosner also suggests making your wedding schedule part of the commitment to health. "A dance class is a fun way to learn some moves for your first dance. The groom will most likely be down with this idea because you both will be out of your element," she says.
Invest in a trainer.
Even if your partner has his set routine for legs, arms, and abs throughout the week, you might need something different to keep you inspired to swipe your gym pass regularly. Rosner suggests you and your soon-to-be spouse hire a personal trainer for a shared weekly session, so he or she can focus specifically on the needs you have together and individually. "When workouts are more geared towards you and your groom, your partner is more likely to stick it out long term," she says.
Use rewards as motivator.
It's not that your partner needs a gold star for coming to that boxing class with you three times a week, but Erik Marthaler, co-founder of Lateral Fitness, says it helps to reward the person you love with activities or items you know they appreciate. You can also make the prize at the end of the sweaty rainbow a reservation at your favorite restaurant or a few pints to celebrate the hard work, without going overboard. Another option? Stroking his competitive side. "Make it a contest to see who can work out the most and have a nice prize waiting at the end of the contest," Marthaler says. "By doing it together, you can also motivate each other to stay healthy and consistent. After all, it's more fun to sweat with others than alone. You can also use a little pressure that you are going into this new life together, and you would like him to be there as a support module with fitness as well."
Compliment him.
If he already wakes you up with 'good morning beautiful' texts without fail, why not shower him with a little love, too? Marie Kazadi, a trainer at Crubox, explains that positive reinforcement will inspire him to keep going. "When we do things outside our comfort zone we need some encouragement by way of a 'good job', 'you are looking so good in that shirt', or even, 'Baby, your arms are on point,'" she says. "Let's be honest, when we see our significant other starting to physically get it together it's only natural that we want to match their level."