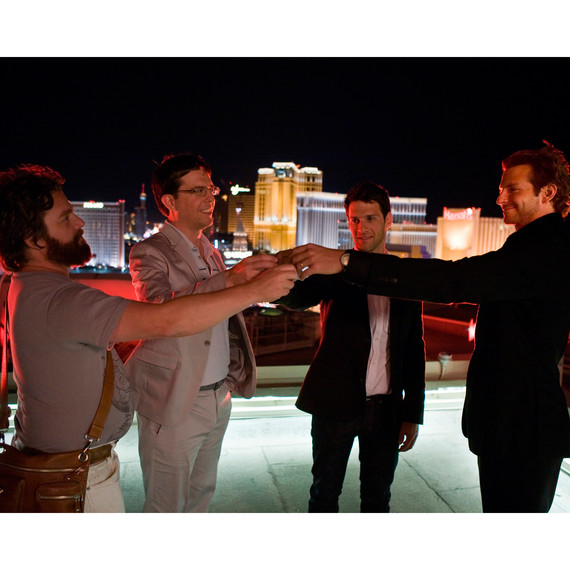 Just like everyone else who's agreed to a big role in the wedding, the best man has a number of tasks he's expected to take on. But just as there are some unenthusiastic maids of honor, you may come across a best man who is all about the glory, but not interested in helping out. Whether it's you or your spouse-to-be who needs help rallying the troops, no-nonsense planner Deborah DeFrancesco of Bitchless Bride has actionable pointers that will help you get the best man to step up to the plate. 
Be upfront.
As soon as you ask your wingman to become your best man, have an honest discussion about what's expected of him in this role. "It's an important decision because this guy will be standing next to you on one of the biggest and best days of your life and this person is responsible for a lot in the year leading up to your wedding," DeFrancesco stresses. Putting it all out in the open makes it easier for you to refer back to this conversation should things go off-the-rails down the line. 
Be direct.
Guys, we love you. We really do. You are good at so many things, but picking up on non-verbal cues just isn't one of them. "If you need your best man to focus on the procuring the tuxedos (and motivating the other guys to select and get fitted), then tell him that this needs to be his priority," says DeFrancesco. Now is not the time for subliminal messages or beating around the bush. "Be forthright and honest, and don't forget to be nice."
Don't micromanage.
"There are so many resources (like this website!) that offer guidance about his responsibilities," DeFrancesco reminds. "Direct him to there. Give a few ideas and links and then let him run with it." Parameters are one thing, ghostwriting passive aggressive emails is another entirely. 
Always keep it friendly.
When you discover you're three days out from the big day and your best man still hasn't started his speech, your first reaction is probably going to be an angry one. DeFrancesco has a mantra for you to keep in mind: Friendly reminders are always better than nasty texts. Take a deep breath, put on a smile, and offer your assistance in getting that blank page filled. To put it simply, "losing a friend because of wedding drama is stupid," DeFrancesca reminds—so don't let it happen to you.
Don't get tunnel vision.
If you're the groom, it's understandable that the wedding is the number one thing on your mind. But remember that it's not the only thing on everyone's mind. Make it a point to step outside the wedding zone and spent quality time with your main man. "Before you were engaged, this guy was your best friend," reminds DeFrancesco. "Be normal. Shoot the breeze. Ask him what's going on in his life." You hear a lot about bridezillas, but that doesn't mean the groomzillas doesn't exist. Don't let yourself become one of them. If you keep things cordial and keep it all in perspective, your best man will always have your back. In wedding planning and beyond.