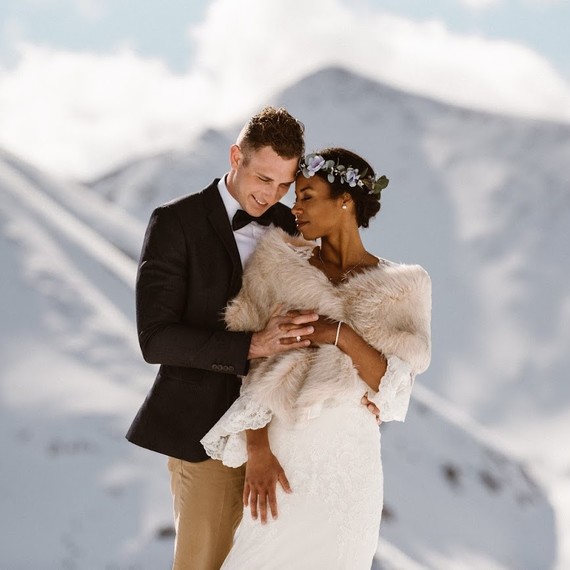 Glowing skin is a must for brides all year long, but winter brides often need to work a little harder to have achieve that dewy look. Why? Our skin is naturally glistening in the warmer months, but tends to be drier during the winter. That's why you'll want to find the perfect highlighter for your big day. But at a time when dramatic highlight and contour trends are everywhere in the world of beauty, it can be hard to find a product that will deliver the kind of natural glow you want for your wedding. To ensure your skin looks soft and bright but not overdone, look for a highlighting product that will help your skin reflect the light rather than shine on its own. To take the guess work out of purchasing a highlighter, we're sharing three great options for winter brides.
The Perfect Glow
If you're a fan of creamy highlighters, this one is for you. The NARS Illuminator in "Orgasm" looks great on nearly everyone, and you can use the product on the high points of the face for just the right amount of glow. Even better, it's applied as a light-reflecting liquid, so it blends well for a natural finish, not stripes of highlighted skin.
Light Radiance
Benefit "Dandelion Box o' Powder Blush" is the perfect fix for those fair-skinned brides who are in search of just a touch of radiance. This shimmery pink powder drops just enough dewy glow to cheeks to illuminated your skin.
All-Over Shimmer
If you prefer an ethereal all-over glow, try Laura Mercier's Mineral Illuminating Powder in "Candlelight." This beautiful powder, which is made with crushed pearls and minerals, can be applied all over your cheeks, eyes, and angles of the face. For a more intense glow, pair it with a cream blush and pat it onto the high points of your cheek bones.