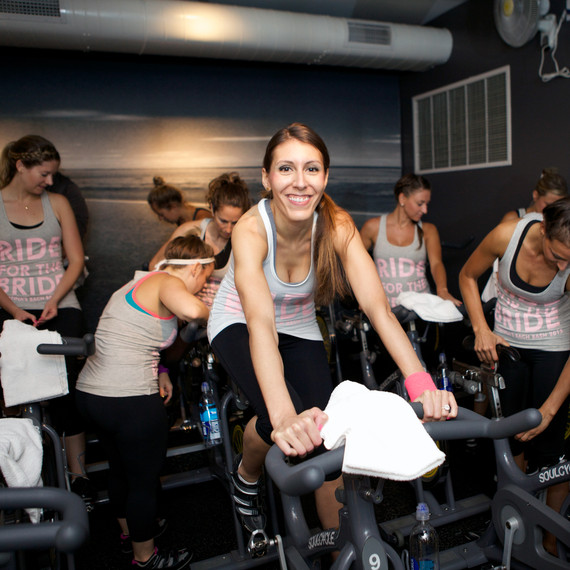 Are you trying to get into the best shape of your life in time for your wedding? You're probably not alone. Brides, grooms, wedding party members, and even some guests take strides to feel and look their best before the nuptials. Topping the list of those wanting to put their most toned leg forward: the mother of the bride (or groom!). Knowing they'll pose for countless photographs, most moms want to be their fittest selves when their child says "I do."
Since your mom is likely playing a major part in your planning adventure, it makes sense to have her share in your fitness journey, too. Plus, note Tone It Up founders Karena Dawn and Katrina Scott, it gives you a buddy that can help provide motivation and keep you on track. The Southern California-based trainers share how to get fit á deux.
Give the gift of fitness.
Show your mom how much you love and appreciate her by treating her to a workout class that you can do together. Want bonus points? Splurge on a massage to soothe your muscles after. Both are great ways to bond before the big day, the Tone It Up founders note.
Get your om on.
If your mom isn't big on cardio, Scott and Dawn suggest trying yoga instead. "It's an amazing low-impact workout to do with your mom," they explain, adding that yoga can also help center and revitalize you when wedding planning gets stressful. Take her to a class at your favorite studio or roll out your mats at home and light some candles to create a relaxing vibe.
Walk and talk.
Your mom is the perfect person to turn to when you need advice on venues, flowers, food, and dresses. Next time you two have a planning session, turn it into a cardio workout, the trainers suggest. Go for a stroll or power walk in your neighborhood while you're chatting about all the details.
Make a splash.
If your mom is looking for a workout that's easy on her joints, try going for a swim together! Dawn and Scott say swimming is one of their favorite forms of low-impact cardio. "It keeps your heart healthy and improves your endurance without putting pressure on your knees," they explain.
Join a plan together.
Everything is more fun with your family by your side. If you were thinking about signing up for a healthy eating plan before the big day, Dawn and Scott's own Tone It Up Nutrition Plan is a great option to try with your mom. "The plan includes thousands of delicious, slimming recipes and lays out exactly what to eat, when, and why to achieve your goals," they explain. Even better, it even includes a special Bridal Edition for brides-to-be and your family.