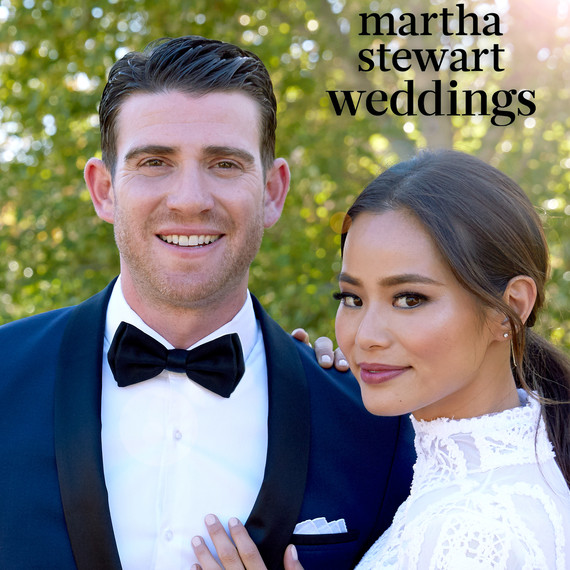 It's already been over two years since Bryan Greenberg and Jamie Chung's Halloween-themed wedding weekend, which we featured in our Spring 2016 issue. But you wouldn't know it if you spoke with the couple—according to them, they still "feel like newlyweds." In an interview with Entertainment Tonight, the spouses shared what married life's been like.
According to the Greenberg, the secret to their happiness is actually taking time apart, which is something they've been perfecting since the start of their relationship. "It works for us," the actor explained. "Jamie had the idea to get separate apartments while we were shooting in Hong Kong," (the couple co-starred in 2015's Already Tomorrow in Hong Kong), "and I thought, 'That's stupid. Why are we spending money on two different places?' But ultimately, I'm really grateful we did that. It was a nice way to just have some time to ourselves and break up the project a little bit."
Not only did the decision help them separate work and their personal lives, but it gave them skills that they appreciate to this day. "Honestly, that's kind of how our relationship is [now]. We enjoy spending time together, but we also enjoy spending time alone." "It's our dynamic on how to make it work. He has his own hobbies and interests, and there are particular ones that bring us together, but we do have our individual outlets, creatively, and things we can just call our own," Chung agreed.
While the stars have been valuing alone time for a while, marriage has taught them some new things, too. "I think with being married, we're learning just how to communicate more—or communicate less even, in some instances, because Jamie's not a big talker," Greenberg admitted. Basically, they've learned to compromise and address each other's needs. "I just learn not to talk to her about certain things. But for me, I think she learns that she has to communicate a little bit more sometimes. We work it out, you know."