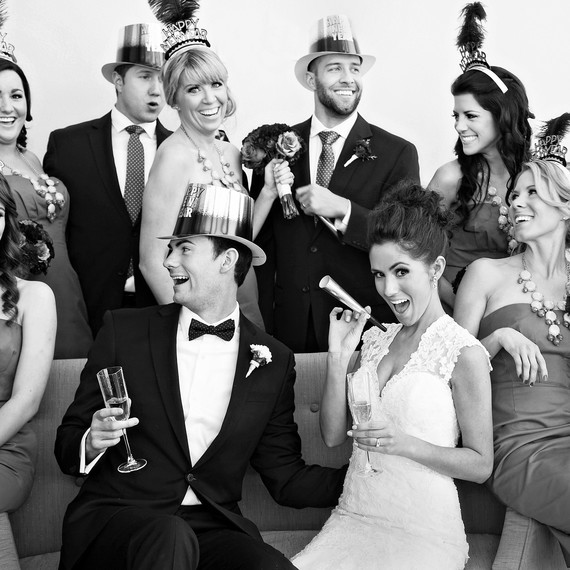 While some couples establish traditions while dating, the first year of marriage is a great time to start thinking about what kinds of annual festivities you'd like to celebrate or host as a family. A New Year's Eve dinner party can be a fun, festive occasion to get your feet wet with hosting and may be just the propeller you need to get a family tradition started in a way only the two of you can. Here are 10 reasons why hosting a New Year's Eve dinner party as newlyweds is a great idea. 
1. You can reconnect with all the friends and family members who attended your wedding.
2. Your newly-acquired registry gifts will be put to good (first) use.
3. If you've already received your wedding photos, you can have a few photos framed or in books lying around the party for guests to see.
4. You can re-wear the outfit from your wedding after-party.
5. Dinner parties are the perfect way to steer clear of the crowds on New Year's Eve, and your friends will likely be thrilled to have a more intimate event to attend.
6. The leftover sparklers from your wedding aren't going to light themselves. Might as well use them as an excuse to host a New Year's Eve party.
7. Heading into the new year with a good meal, great tunes, and your dearest friends by your side will have you feeling optimistic and excited for what's to come in your first year of married life.
8. You can use all the sequins, sparkles, and feathers you didn't have in your wedding décor because it felt too over-the-top.
9. You learned to saber a Champagne bottle while planning your wedding, and now you can put that skill to the test again.
10. You can set a specific dress theme for the occasion to make it feel like a festive dinner party. Maybe a 1950s Miami masquerade theme, a Studio 54 party, or a tropical paradise theme.