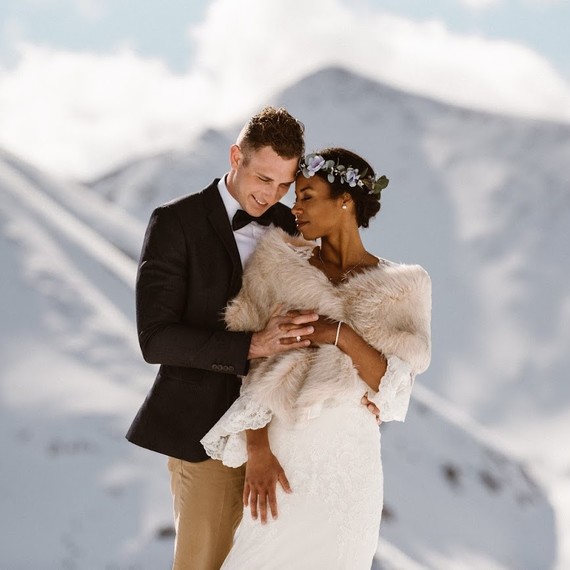 What's not to love about a winter wedding date? Twinkling lights, time spent with family and friends, and plenty of hot chocolate… can you imagine a more magical time of year to tie the knot? If you're planning your own holiday-focused wedding, these videos are for you. Get inspired by the festive celebrations real couples planned, then copy their ideas for your ceremony and reception—your secret is safe with us. Those who aren't tying the knot during this time of the year will still love watching these joyful parties come to life, and might even be encouraged to add a little holiday spirit to their day, no matter when it's taking place.
Christmas in New England
Claire and Kyle wed in Nantucket, Massachusetts, over the Christmas holidays. They chose their New England destination since it's where they first met, and the locale was made all the more meaningful since they've traveled the world together and still chose to return to the spot where thier love story began. It's impossible not to cry while watching Birdhouse's film of their special day, which included plenty of nods to the holiday season.
A Festive Venue
Michael and Maggie, who tied the knot in Detroit during the Christmas season, first hit it off during an office Christmas party, so it was practically a requirement that their ceremony and reception reflect the holidys. Their wedding was held at Old Saint Mary's Catholic Church, a truly magical space during the season—between the bright red poinsettias surrounding the bride and groom to the church's Christmas tree covered in white lights, the venue was a winter wonderland. But don't take our word for it: Check out the video by Blue Racer Productions to see it for yourself.
Christmas in the City
Is there anything more magical than a holiday wedding in a big city? Eram and Diwas' clearly don't think so! The pair was married in a stunning Central Park wedding, and their day offers tons of amazing inspiration for couples planning a winter wedding. The beauty of wintertime in New York is all the decoration you need, as evidenced by this video captured by NST Pictures.
Moody Holiday Hues
Outré Cinema beautifully captured Edna and Benjamin's moody winter wedding day. From the hanging lights to the gorgeous pine cone cake, everything about their celebration spoke to the holiday season, but in a fresh way.
New Year's Eve Wedding
One of the  most special ways to welcome a new year? With a wedding, of course! Sara and Bianca chose the meaningful date for their wedding not only because it's such a fun holiday, but also because it was their six-year anniversary. Grab a box of tissues while you are watching Hadley Studios' video of the couple's day.