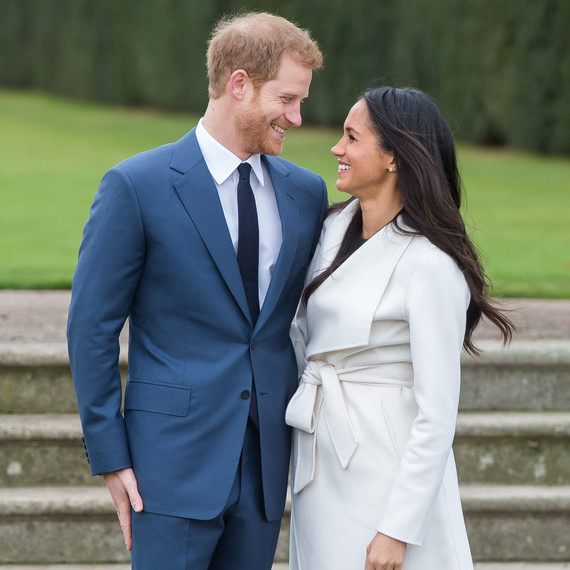 Ed Sheeran wants Meghan Markle and Prince Harry to know that if they need a wedding singer, he's available. According to People, Sheeran told reporters that the newly-engaged couple hasn't been in touch, but he'd be more than happy to serenade them during their first dance if they do reach out. "Yeah, why not?!" he said.
Although we're just speculating, Sheeran could actually be a feasible option. The Grammy-winner said he was willing to perform at the next royal wedding just hours after receiving an MBE from Prince Charles—on behalf of Queen Elizabeth—for his contributions to music and charity. The award means he's in pretty good standing with the Crown, which could ultimately put him in the running for the role. He certainly has the experience. In 2015, he accidentally crashed a Sydney wedding, where he performed "Thinking Out Loud" for the couple's first dance.
It also wouldn't be atypical for a prominent musician to attend and perform at a royal wedding. Ellie Goulding sang a set—a mix of her own hits and covers—at Prince William and Kate Middleton's wedding in 2012. Like Sheeran, we'll just have to wait and see.
We do, however, have a few details about Harry and Markle's May 2018 wedding already worked out. Just one day after news of the engagement went public, Kensington Palace announced that the prince and his bride-to-be would exchange vows at Windsor Castle, in a relatively intimate ceremony (by royal standards). An Us Weekly insider revealed days later that Harry had asked his big brother, Prince William, to be his best man—and that the future King of England had wholeheartedly accepted. According to another Us Weekly source, Harry's niece and nephew, Prince George and Princess Charlotte, will also be involved in the big day.