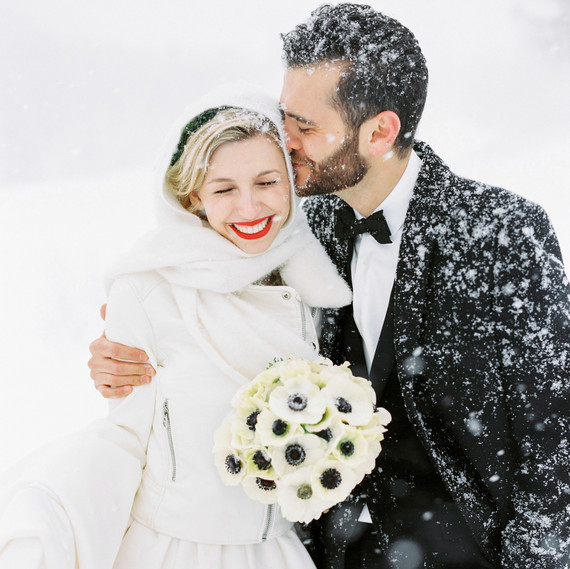 While most guests would probably choose to attend summer I dos over winter ones, a wedding in a cold climate during December, January, or February has a certain charm that June, July, and August just can't compete with. To make sure guests are happy and comfortable, take note of the following things guest love about winter weddings.
The comfort food.
When temperatures dip, guests can handle heavier fare. If your caterer offers homey, stick-to-the-ribs dishes like mac and cheese balls and mini chicken and waffle skewers, make them part of the cocktail hour menu; for a season-appropriate entrée, serve turkey with cornbread stuffing and mashed potatoes or beef Stroganoff.
The hot chocolate bar.
Guests will feel giddy when they put down the Pinot Noir and pick up a steaming cup of hot cocoa made with real chocolate. The best part: The add-ins, like marshmallows, chocolate chips, chocolate peppermints, whipped cream, and strawberry-flavored syrup. It's like dessert in a mug!
The romantic snowfall.
There's something breathtakingly beautiful about fluffy white flakes falling from the sky and making a soft landing on the ground. Photos taken outdoors prove that snow creates a magically captivating background.
The fireplace.
Does your venue have a working one? If so, guests have lucked out. Nothing's as cozy and appealing as a blazing fire to whisk away the winter chill. Forget the bar—this will be the evening's hot spot.
The chance for a mini getaway.
Whether you hold your wedding in a bustling city, a remote village, or something in-between, out-of-town guests may consider your celebration a chance for a vacation in the midst of a long winter. Help them out by posting info on your wedding website about local attractions, activities, and restaurants.