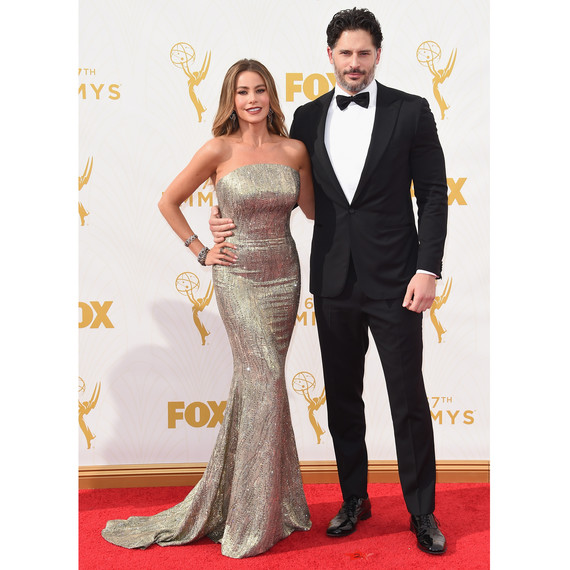 Today marks two years since Sofia Vergara and Joe Manganiello tied the knot, but for the happy couple, it feels like yesterday. On the eve of her second wedding anniversary, the Modern Family actress opened up to Ellen Degeneres about how her marriage to Manganiello has changed her life.
"I'm very lucky," Vergara said. "I must have done something really right in my life to get that reward." When Degenees told her that she is a good, deserving person, after all, the star turned the attention right back to her husband. "I'm good but I'm not a very, very good person. But, he's better than me." This isn't the first time that Vergara has sung her man's praises. "He tells me, 'You know, one of the things that draws me so much to you is that you were, like, the first woman [who] I went out with that is really, really, like, independent,'" she told ET Online in September. "And I don't need to ask anyone for anything. You know, you want to give it to me, then give it to me. I'm not asking. I receive gifts, but [I don't need them]."
Vergara may not be asking for gifts, but Manganiello certainly delivers. For their one year anniversary, the Magic Mike actor presented his wife with a book about their love story. "It was about how we met, as well as our courting, and was about 40 pages long. I love my wife a lot," he told Cosmopolitan UK. He also divulged how he and Vergara began dating. "I was on a press tour when I found out Sofia was single," he explained. "My friend is an editor, and told me she was about to make the announcement. I got her number from Jesse Tyler Ferguson, then flew to New Orleans to take her on a date."  
At first, though Vergara thought that Manganiello was "too hot" to date. Clearly, the actor (his good looks, included!) won her over. The couple married in November 2015, in Palm Beach, Florida. "It's about creating memories that you're always going to cherish," Vergara told Martha Stewart Weddings, of her wedding. "That's what's important."