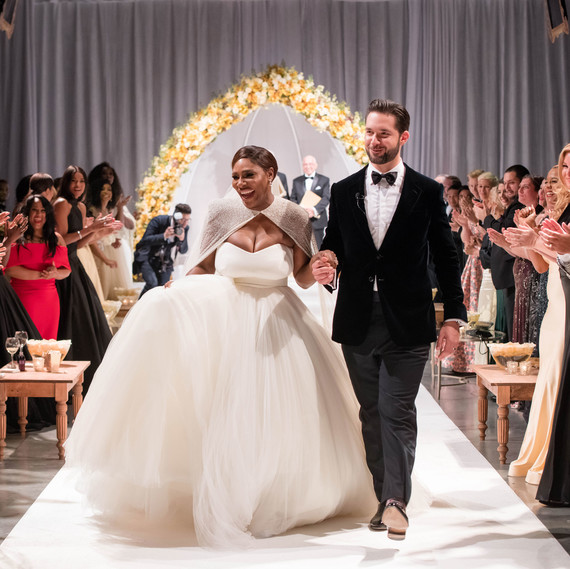 Last Thursday, Serena Williams and Alexis Ohanian tied the knot with a wedding that was straight out of a fairytale. Now, even more information about the nuptials keeps pouring in. We've learned a lot about their various wedding-related celebrations, including the bachelor and bachelorette parties, the rehearsal dinner, and the ceremony and reception. But the fun didn't end there. The newlyweds kept the party going with a post-wedding brunch.
Williams and Ohanian greeted guests at the Ace Hotel in New Orleans, Louisiana—the same city where their wedding was held. Williams, who changed dresses twice during the reception, continued to wow guests with her fashion choices. For the post-wedding party, the newylwed wore a sleeveless white dress, People reports, which she paired with Chanel espadrilles. Ohanian put on a blue suit for the occasion.
We also learned that Williams stayed in a HomeAway rental property during her time in the Big Easy, a fact that she revealed on Instagram Stories. The tennis star, who said she loves "old houses" and "old architecture," clearly scored big with the historic mansion.
Williams wasn't the only one to post about her festivities online. The wedding's featured on Vogue's website, and guests also shared photos from the event. Tina Knowles took to Instagram to reminisce. "Now i can say that i was at one of the most beautiful weddings! That room was so filled with joy and love. Real Love with real folks. Congratulations to this amazing couple," she wrote. Her daughter, Beyoncé, attended too, and shared photos of her outfit.
According to reports, Williams and Ohanian have taken off for their honeymoon. The couple was spotted boarding a jet with their daughter, Alexis, but we don't know where they're vacationing yet.