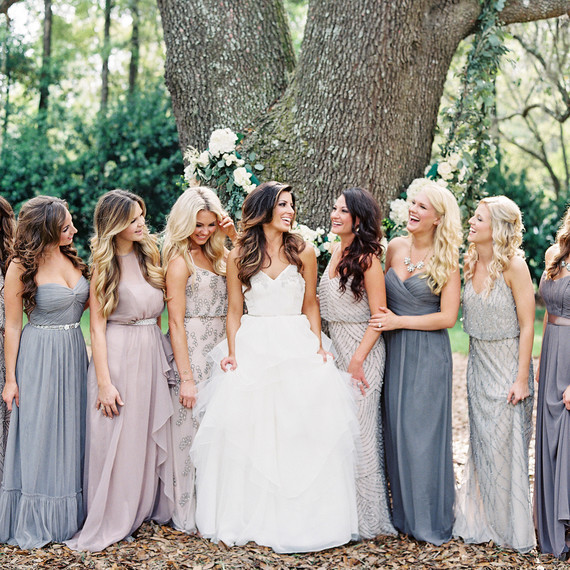 Whether you walked down the aisle or attended a wedding in 2017, there's no denying that it was a fun year to celebrate love and marriage. Weddings were more elaborate and eccentric than ever before, and brides and grooms weren't afraid to test the waters when it came to new colors, textures, and decorations. Here are some of the year's trends that wedding planners applaud most.
Glamorous Stationery
From the save-the-dates to the table numbers, couples are no longer holding back when it comes to their big-day stationery. "Making that stylish first impression is really important for setting the vibe and tone for your wedding," says Lindsey Sachs, a wedding planner and owner of COLLECTIVE/by Sachs in Boulder, Colorado. "With personalized mail not as common in today's digital culture, the 'all out' invitation trend has helped couples obtain the 'wow factor' they're looking for".
Mismatched Bridesmaids' Dresses
This year saw more diversity among the gowns worn by 'maids, with brides dressing their attendants in varying styles, textures, and patterns. "What we love most is that mixing and matching allows each bridesmaid to find a silhouette that is flattering for her body type and brings a more authentic, natural vibe to the overall appearance of the bridal party," says Sachs. "Bridesmaids typically feel more comfortable in a dress they selected as opposed to a 'one-size-fits-all' silhouette, and your photos are likely to reflect that ease of wear."
Photo Walls
Most brides know that many of their guests will be posting photos from their wedding on various social media channels. For this reason, the trend of creating a decorative wall to be used as a photo backdrop is catching on. "We've seen a lot of couples using boxwood walls for backdrops at photo booth areas," says event planner, Michael Russo. Dealing with a tight budget? DIY instead. "You can buy silk boxwood (sold in rolls or square tiles), attach them to a sheet of plywood/foam core board (painted green) and finish it off with a basket of fun props to make the photos super festive."
Food Trucks
Especially ones that come at the end of a wedding! "The food trucks trend has blown up over the last few years and are beginning to be a must-have at weddings," Russo says. "From gourmet grilled cheese, donuts, coffee trucks filled with custom candy, coffee, tea, hot cocoa, and desserts, these food trucks give guests that late-night snack they're craving." 
Incorporating Pets
"It seems like there are just as many ring bearers and flower girls with four legs as there are with two," says Anthony Navarro, wedding planner at Liven It Up Events. "It's a fun trend and we should keep it up." Just be careful when letting Fido get too close to your gown and remember that he might get excited or nervous as the crowds start rolling in. "Having treats or toys around to help calm your pet down is key," adds Navarro. For the ceremony, he recommends hiring a dog walker who can escort your pup to the ceremony location about 30 minutes before start time. "That will be enough time for your pet to acclimate to the environment and to get a few photos."
Bolder and Brighter Hues
Neutral was in for a bit (think: champagne and beige), but color is back in style. "People seem to be afraid of using color, but it's better to embrace it," says Navarro. Choose your colors carefully, he advises, since there are so many shades to choose from. "Primary colors will read more elementary while deeper colors will help make the overall design look more sophisticated. Keep the lighting for the ceremony and reception on the neutral side. The last thing you want is to have a blue face in your wedding reception photos."
Natural, Earthy Décor
This year's weddings were packed with nature-inspired décor—leaves, berries, branches were incorporated into everything from centerpieces and boutonnieres to cascading shrubbery and suspended greenery installations. "I love having long green garlands down the side of the aisle, weaving on top of pedestals, boxes, wood stumps, and candles," says Navarro. "Those garlands can be repurposed on long, wooden tables for the reception and tucked into floral and wooden elements." His favorite greenery trick is to create either long lush pieces or circular suspended pieces that have candles and dripping greens from them. "These look great hanging over the dance floor, head table and guest tables and have an impactful look that helps transform a space."