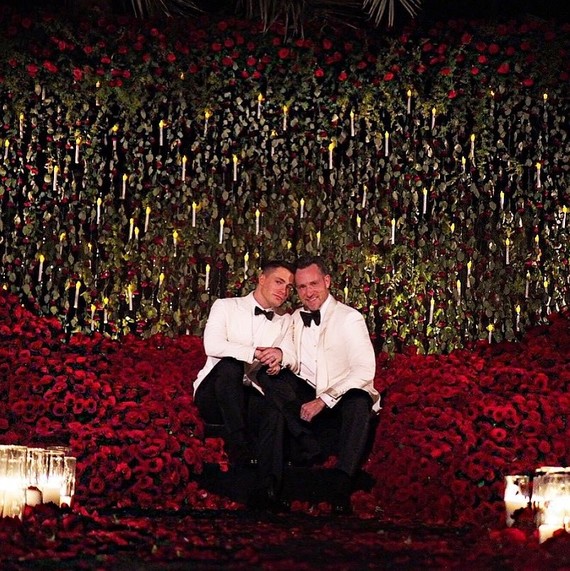 It seems like Colton Haynes got more than a little wrapped up in the world of wedding planning. The actor revealed to People that he had to take a step back while planning his recent wedding to celebrity florist Jeff Leatham.
Even though Haynes previously said that Leatham would spearhead the wedding planning process, the actor surprised himself by getting swept up in the details, too. "I entered into Jeff's world of lavish, beautiful weddings and became addicted," the Arrow star said.  "I wanted roses falling from the ceiling. I wanted this weird, magical fairy tale and I started realizing, 'Oh! I might be becoming a bridezilla, so I have to step back and let him do what he does and trust what he does."
His extravagant plans were a far cry from what he initially said he wanted after getting engaged. "I'd never been to a real wedding, so I kept saying I'd be fine getting married in a trailer in the sticks." His new husband added, "He went from wanting to get married in a backyard to wanting something out of a Baz Lurhman movie."
Even though Haynes may not have gotten those roses falling from the ceiling, that doesn't mean the wedding wasn't extravagant. Leatham's floral design talents were put on full display, and an arrangement of about 60,000 roses wowed guests at their "Cher-meets-Guns-'N-Roses" themed celebration.  
It seems the couple couldn't be happier with how their ceremony and reception turned out. Haynes is stil posting pictures from the celebration and he doesn't plan on stopping anytime soon. "I'm gonna be posting pictures from my wedding all wk and ur all just gonna have to deal with it," he captioned an ablum of wedding photos on Instagram.