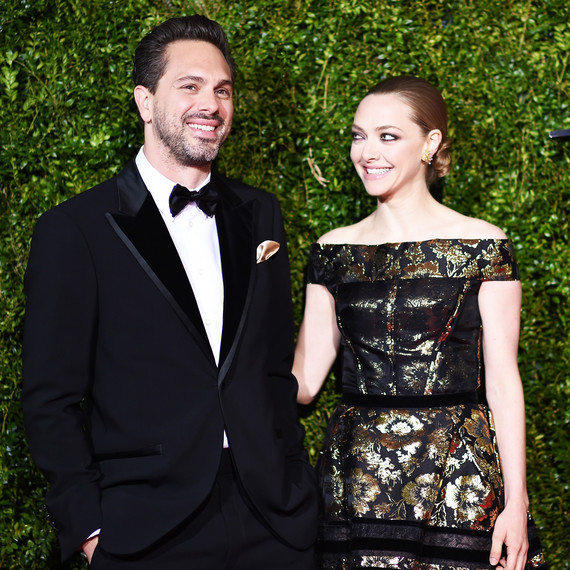 It's been seven months since Amanda Seyfried and Thomas Sadoski's impromptu wedding, but these two are still in the honeymoon phase. Yesterday, the Mean Girls star posted a photo of her and her husband hugging, complete with a sweet #ManCrushMonday message.
"I only wish you'd found me sooner," she wrote, before adding in the #mcm hashtag. The photo shows Seyfried looking lovingly at Sadoski, with her arms around his neck, and clearly illustrates the couple's love. This isn't the first time these two have flashed their bond. When Sadoski broke the news of the couple's elopement to James Corden back in March, he confirmed how he knew his wife was the one. "Listen, she's the person that I love, admire, respect most in the world," the Newsroom actor said on The Late Late Show.
Seyfried and Sadoski first crossed paths in 2015 on the set of the play The Way We Get By, but didn't begin dating until the following year. Two months after announcing their September engagement, the duo revealed that they were expecting—Seyfried gave birth to a baby girl in March, just weeks after the duo eloped. Prior to his daughter's birth, Sadoski opened up about how lucky he felt to parent with his Seyfried. "You know what man, I'm more excited to be a father, with Amanda as my partner, than I've ever been about anything in my entire life," he told Harry Connick Jr. "She's incredible, you know?"
Of his wedding, Sadoski also revealed that the couple's nuptials were a quiet, intimate moment shared only by him and his wife. "We eloped," he told Corden, before sharing that they also wrote their own vows. "We just took off into the country with an officiant and just the two of us, and we did our thing. It was everything it should be. It was just the two of us talking to each other."