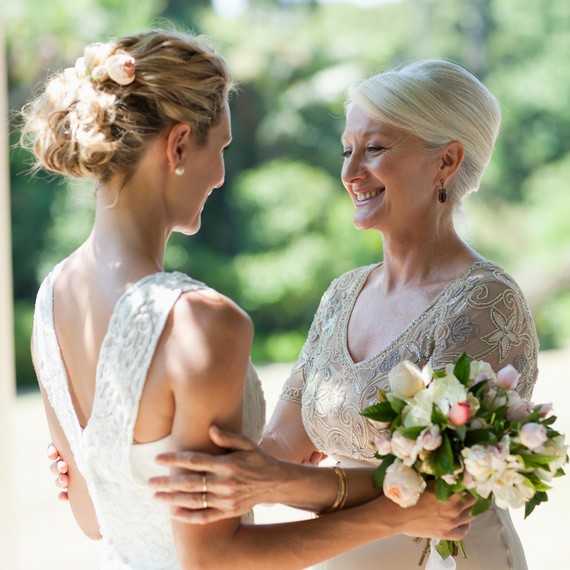 Shopping for the perfect mother-of-the-bride or-groom dress can be more than just a little difficult. Even though there are a countless number of dresses to choose from, only a handful are going to be a good fit for a wedding. "All of the mothers I help tell me they don't want to be a traditional mother of the bride," says Julie Sabatino, owner of The Stylish Bride and The Stylish Dresser. "Moms today are young and chic and they want to look like it."
Luckily, there are dresses out there that are fresh and modern yet still appropriate. Before you go shopping, pay close attention to these style mistakes and you're sure to look and feel great on your son or daughter's big day.
Make sure your dress isn't too short or showy.
You may have a super-toned physique, but you'll still want to tone it down a bit for your child's wedding. That doesn't mean you have to cover up completely, though. You can definitely show off your toned arms or slim waist; just make sure to choose a dress with an appropriate hemline or one that's not too revealing. It is a wedding, after all.
Don't go crazy on color.
When choosing your look, don't use this as your chance to finally buy the bright fuchsia dress you've been dying to wear. Instead, talk to the bride and find out what colors she thinks would be appropriate or will be used throughout the day. When in doubt, choose something in a classic color: Sabatino says colors like charcoal gray and navy always look great. Just don't pick white, beige, or ivory for obvious reasons.
Rethink the print.
If you want to wear a printed dress, ask the bride if the pattern goes with the overall feel of the wedding. While florals are easy to make work, other patterns might be a little too wild for this type of celebration.
Choose a nice fabric.
If there's ever a time to splurge a little on a dress, it's for your child's wedding. Instead of choosing something that's going to wrinkle or that may not flatter your figure, find a dress made from a fabric that will be able to withstand the day's festivities—and make you feel good in the process.