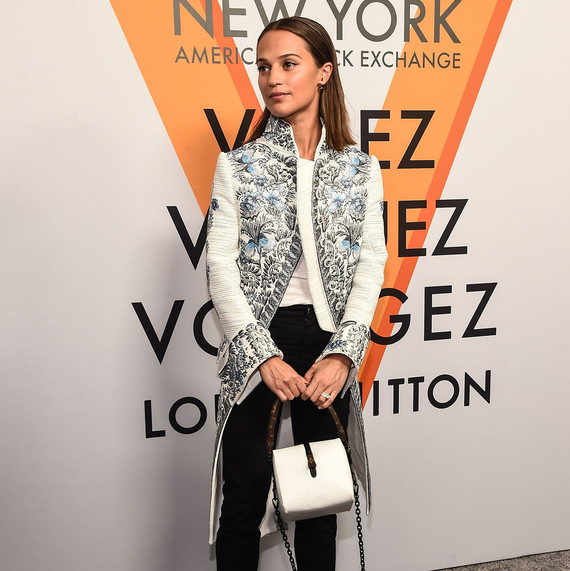 Alicia Vikander just made her first red carpet appearance since marrying Michael Fassbender earlier this month. On Thursday, the actress flashed what appears to be her engagement ring and new wedding band at a Louis Vuitton event in New York City. 
While no close-ups of the Oscar winner's bridal jewelry exist yet—we'll have to wait to see which diamond cut Fassbender decided on—it's clearly something very sparkly. Both Vikander and her new husband have been notoriously private about their three-year-long relationship, so it's surprising to see the actress finally wearing her ring in public. The couple has actually been much more forthcoming about their bond since since tying the knot in Ibiza. While honeymooning in Italy, they were spotted taking selfies with multiple locals in Bologna, Verona, and Florence, and were photographed laughing with a large group of people in a restaurant.
Vikander and Fassbender met in 2014, when they played a married couple in the film The Light Between Oceans. They didn't take the relationship public, however, until two years later, when they walked the red carpet together at the 2016 Golden Globes. Rumors of their marriage began circulating in early October when The Daily Mail released photos of Vikander wearing a white sundress with a beaming Fassbender by her side. The photos showed the couple addressing a small group of family and friends and clearly displayed their wedding bands. People confirmed the news just last week, adding that the two wed at La Granja farmstead resort.
Neither Vikander or Fassbender have confirmed news of the wedding, but that's not atypical. The Tomb Raider actress has always been reluctant to share her news of her relationship with the public. "I'm not going to talk about my private life with a total stranger, unless I feel like I need to," Vikander told Entertainment Weekly last year.