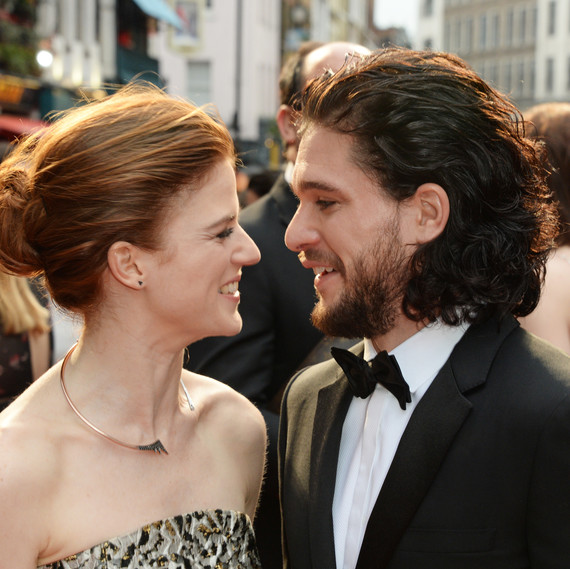 In a recent interview with The Guardian, Game of Thrones actor Kit Harington opened up about life in the public eye. He also spoke about his fiancée, Rose Leslie, explaining why the couple thinks it's so important to keep their relationship private. Plus, he dished on the one thing he and Leslie will never do together.
Harington alluded to the fact that being a celebrity comes with perks, but there are also some obvious annoyances. The actor said that "the photo thing" is one of his least favorite parts of being famous. He even takes days off from posing for selfies with fans, much to their chagrin. "But you just have to, otherwise you start feeling like a mannequin. Especially me and Rose, we never do a photo together. Because then it makes our relationship feel like… puppets," he shared, or "like we're a walking show."
Later in the interview, the Game of Thrones star spoke further about the couple's private antics, and noted that he always avoids revealing too much about their love life to the media. "I just don't—and I won't say much about it now—but I don't believe in talking about one's relationship in the press because it's, I strongly believe it's her relationship and mine, and anything I say here, she may not want me to say. So, I just don't say it. I genuinely think it's our private life."
That being said, Harington couldn't help but get giddy when the interviewer brought up how loved the couple is, noting the many lists and videos online celebrating their romance. "Are there?" he asked, grinning. The interviewer then called the fandom "adorbs," to which Harington replied: "She'd approve of adorbs."