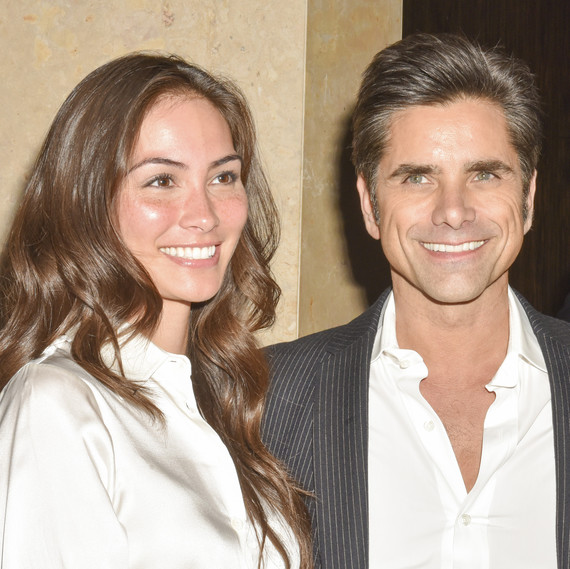 John Stamos and Caitlin McHugh just got engaged last weekend, but the actor is already thinking about starting their family. When asked by Extra if he wants kids, Stamos responded, "Yeah, that's certainly the plan."
The topic of expanding his family came up when Stamos was explaining the details of his proposal. The Fuller House star proposed to McHugh at Disneyland, sharing that his new fiancée is a "Disney freak." He said, "I was sort of done with Disney, I was like, I'll wait until I have some kids," which prompted reporters to ask if he and McHugh had talked about starting a family someday.
In addition to talking about their future, Stamos also recounted some of the details of the proposal, which sounds like something straight out of a Disney movie. The actor explained that he spent a month working on the details, and event got help from Walt Disney Company CEO Bob Iger and an animator who created a video of romantic scenes from Disney Pixar movies. The video ended with a picture of Sebastian from Disney's The Little Mermaid holding up a sign that said, "Go on and ask the girl."
McHugh posted sweet snaps of the moment on her Instagram with the caption, "I kissed the boy and said…yes! That's what you do when the sweetest, most romantic Prince Charming treats you like a princess and asks you to be his."
During the interview, Stamos couldn't stop talking about his new fiancé, stating that she was definitely worth the wait. "It's been a long time and I've always been pretty vocal about wanting a family and wanting to be married, and everyone is like 'Why can't you? You can do it.' The truth is I just wasn't the best me, and I wasn't going to attract someone like Caitlin. I had to work on myself and put in some time—and I know my mother would've been really happy with that, and this beauty just came into my life."
It's clear that Stamos couldn't be happier to be engaged to McHugh. "I waited a really long time and she is perfect," he gushed. "I mean I don't deserve her, by any means."