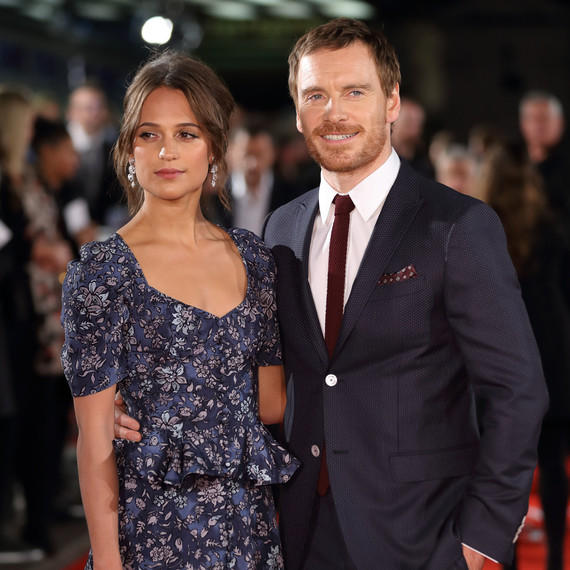 Alicia Vikander and Michael Fassbender are kicking off married life in Italy. The newlyweds were spotted in Bologna on Sunday, where they took photos with their fans just one week after they were married in Ibiza.
As quiet as these two have been about their entire relationship—the couple's reps have yet to officially confirm the marriage—they seem to have opened up considerably. One week after tying the knot, multiple Bologna locals have posted photographs with the actors. Many were taken in a small restaurant, where Vikander even flashed her wedding band while taking a selfie with another couple.
News of Vikander and Fassbender's secret island ceremony surfaced last week, after paparazzi photos of the duo's wedding weekend emerged. Some photos showed Vikander in a white sundress, while others featured both the actors wearing wedding rings and surrounded by guests. People confirmed the news that, after nearly three years of dating, they finally made things official. The couple met on the set of their 2014 film The Light Between Oceans and quickly sparked dating rumors. The pair didn't take the relationship public until two years later when they stepped out together at the 2016 Golden Globes. One month after that, the couple shared their first moment of outward intimacy when Vikander kissed Fassbender before going accepting her first Oscar.
We'll have to wait for further wedding and honeymoon details, but if Vikander and Fassbender's private history is indication, it's unlikely that we'll get them. In a joint interview with Entertainment Weekly last year, the actress explained the couple's decision to keep their relationship to themselves. "I'm not going to talk about my private life with a total stranger, unless I feel like I need to," Vikander said.