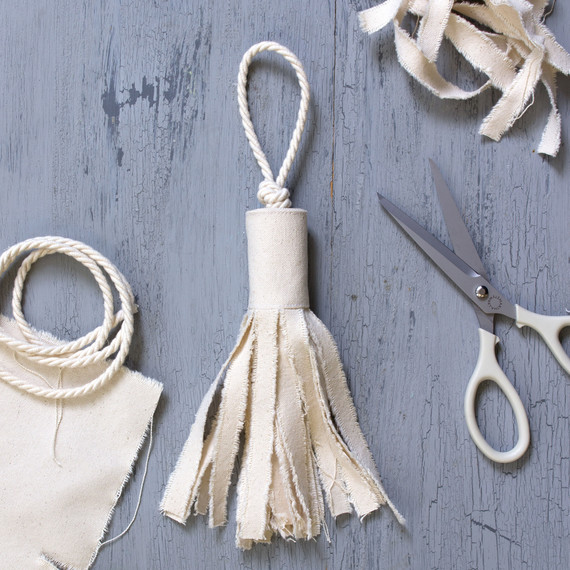 When it comes to your wedding, it's all of those little, unexpected details that make a big difference. But many couples feel like every DIY project has been done to death already—from mason jars to fairy lights, what was once unique is now de rigueur.  But not to worry, putting your own distinctive stamp on the day is never out of the question, but you may have to think outside of the box. We did just that and came up with the idea for our canvas tassels. Inspired by the canvas wedding ideas we designed for Martha Stewart Weddings a few years ago, we devised this brand-new DIY to help you create something fanciful and marvelous from an unexpected source.
Though an unsung hero in the fabric world, canvas has a beautiful texture and a warm, neutral shade that pairs well with almost every color scheme. We love its natural color, but you can also choose a fabric with a similar feel and weight, like cotton duck or denim, in a shade you love. These tassels are not only easy to make in minutes, they have so many possibilities when it comes to how to use them. Adorn your dining chairs with clusters of tassels, tie them to string to secure rolled dining napkins, rope off a section of chairs at your ceremony, or hang them on the getaway car. You can even make scaled-down versions to attach to the ring bearer's pillow or place on the bouquets instead of flouncy bows. Ultimately, it's up to your unique ideas and individual inspiration to devise the perfect place for these tassels.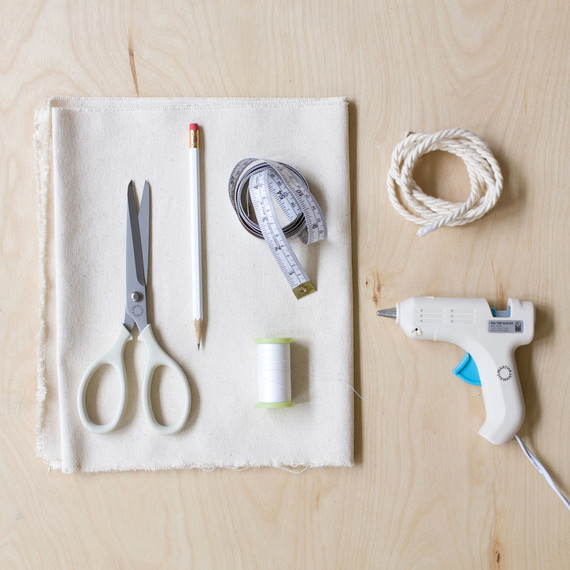 Tools and Supplies
About a 1/2 yard of canvas per tassel
Scissors
Pencil
1/4" cotton cord
Hot glue gun and sticks
Measuring tape or ruler
White or off-white thread
Sewing machine
Iron and ironing surface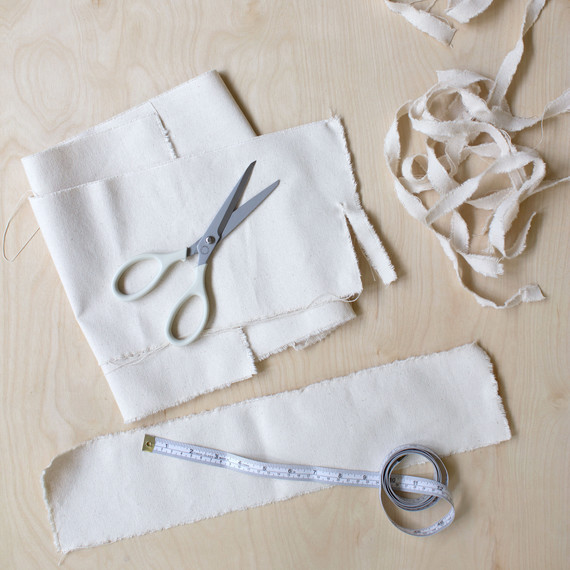 Step 1
Cut or tear 30 to 35 strips of fabric that are each 6"x 1/2" long. To tear, cut a 1" slit with your scissors with the grain of the fabric and gently rip. Next, cut a 4" x 18" rectangle from your fabric.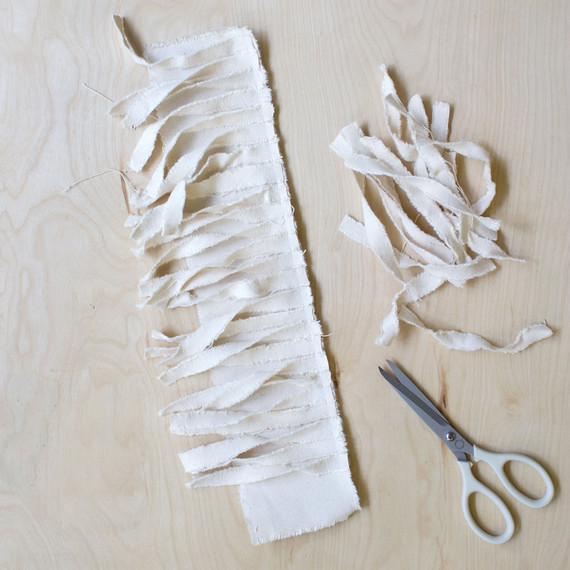 Step 2
Using a sewing machine and thread, attach the torn strips to one side of the rectangle. The strips should line up at the edge, sitting side by side and overlapping the rectangle. Stitch approximately 1/4" away from the top edge of the fabric and leaving about 1.5" at the end without any strips attached.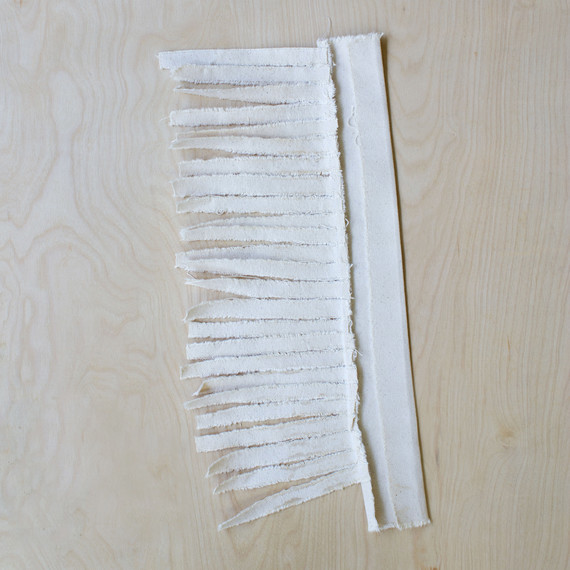 Step 3
After all your small strips are sewn, flip over, fold in and iron both edges of the rectangle. The rectangle should now be a 2.5" band. If the strips are twisty, flatten them using the iron.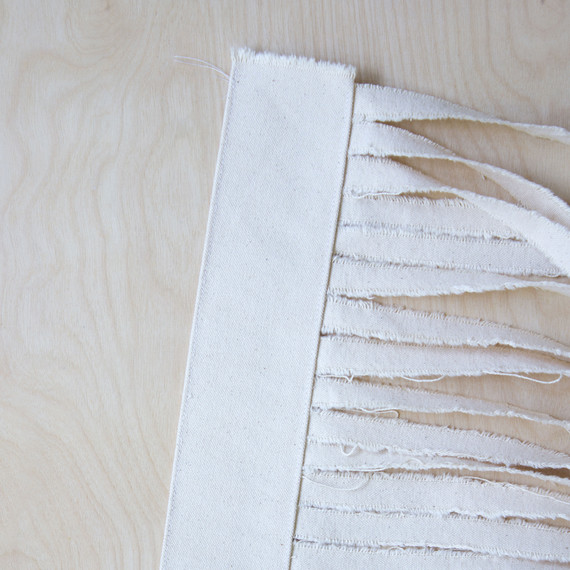 Step 4
Next, using the sewing machine again, add a stitch along each edge of the band.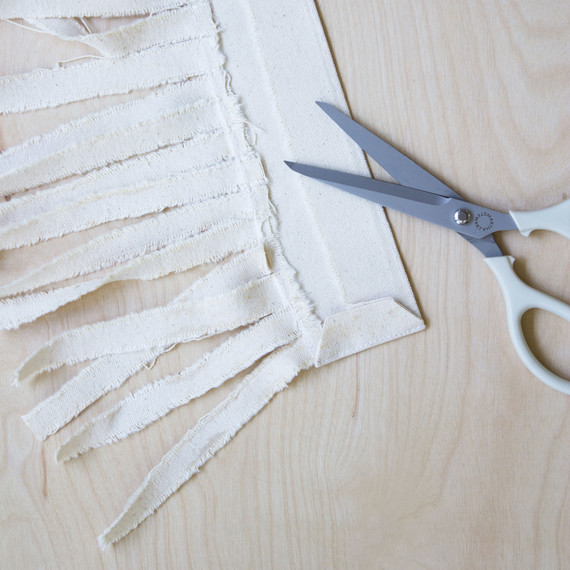 Step 5
Fold over the end of the band without strips and sew along the edge. Cut the corners at a 45-degree angle.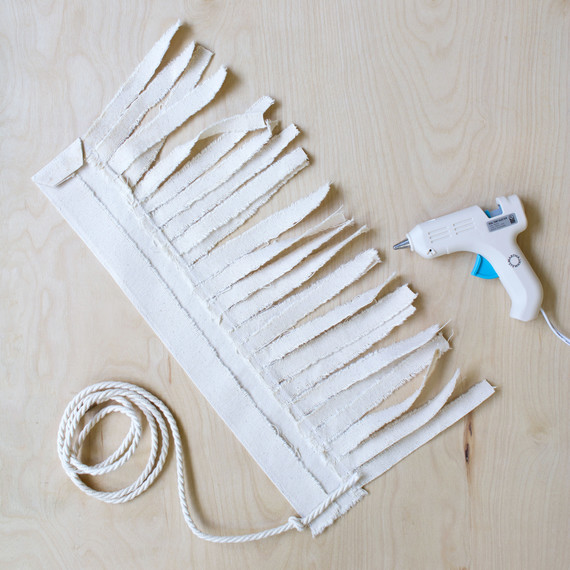 Step 6
Tie at knot in your cord about 3" from the end. Run a thin line of hot glue at the end of the fabric band that has not been folded and sewn. Quickly place the cord in the glue with the knot just past the edge.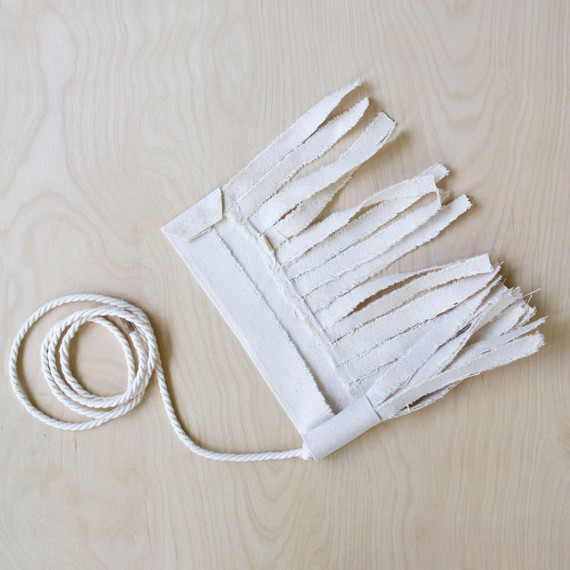 Step 7
Roll the band and strips tightly and evenly.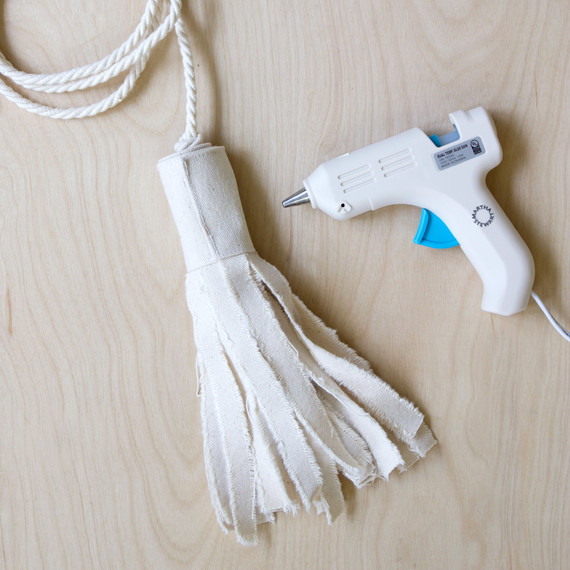 Step 8
Continue rolling, making sure to roll evenly and straight. Secure the sewn end in place with a thin line of hot glue. You can make a single tassel with a loop or double tassels on a longer cord.