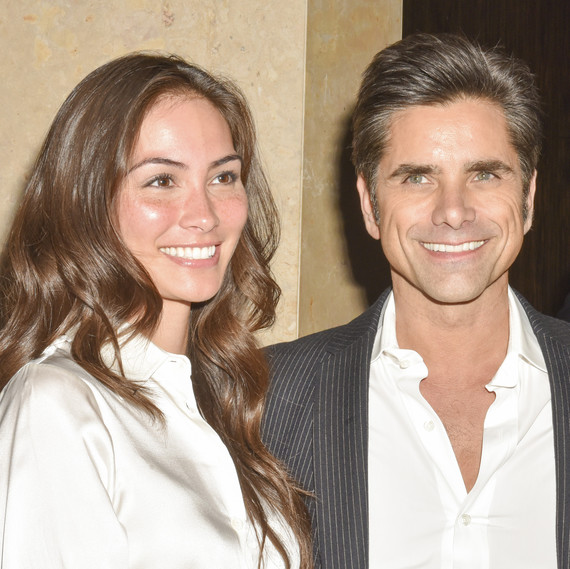 John Stamos announced his engagement to actress Caitlin McHugh, his girlfriend of two years, on Sunday. The former Full House actor broke the news on Instagram with an illustration of the happy couple at Disneyland.
"I asked. She said yes! And we lived happily ever after," Stamos wrote in the caption. The actor's rep confirmed to People that the proposal took place at the California theme park and also revealed that Stamos put his directing skills to good use while popping the question. The actor made a short film of the sweetest romantic moments from all of McHugh's favorite animated films, and ended the short with a clip from The Little Mermaid. "Just ask the girl" popped up on the screen, prompting Stamos to get down on one knee. McHugh said yes, making Stamos the happiest man on earth at the happiest place on earth.
Stamos and McHugh were first linked in March 2016, when Stamos announced the relationship on The View. After going public, Stamos and McHugh were frequently spotted out together and never shied away from talking about each other in interviews. "He's very encouraging of anything I want to do career-wise," McHugh told Entertainment Tonight earlier this year. "I really appreciate it a lot. You don't get that with every guy."
They might be comfortable praising each other, but McHugh has always wanted to keep certain elements of their relationship to themselves. "We like to keep our lives private because we've seen what relationships in the public eye can be like and we just like our privacy," she continued. "We don't want the commentary from the masses about what our relationship is or should be. We're very happy together and we hope to be so for a long time."