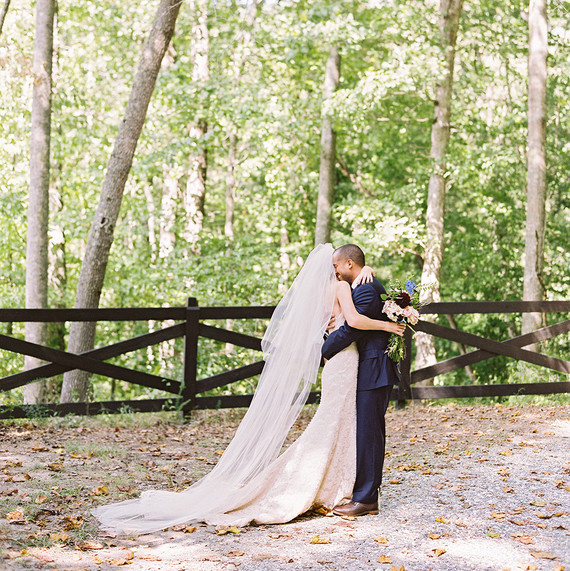 As many venues and wedding vendors would confirm, fall is arguably the most popular time of year to get married. With the beautiful fall foliage and crisp air, weddings throughout autumn have a particular romance about them. But all that can come tumbling down quickly if you're unprepared for any of these common fall wedding mishaps. Read on for tips on planning a fall wedding sans seasonal drama.
Don't get stuck in the rain, the heat, or the cold.
As is the case in any season, fall's weather issues can hit when you least expect. Have a backup tent reserved far in advance just in case your outdoor wedding gets rained out. Pay attention to weather temperatures the week of your wedding so you can bring in fans or heaters if necessary. Parasols or umbrellas may need to be brought in along with throw blankets and shawls for guests to use. Keep in mind that early fall is the season for hurricanes in the south, too—you may want to err on the side of planning a late fall wedding if you live in a hurricane prone area.
Make sure you don't end up without hotel options for guests.
Plan as far ahead as you can with booking room blocks for your guests. Fall is a very busy time of year, with a lot of group conferences and festivals planned throughout September and October. Unfortunately, this means that a lot of hotels will have big group bookings they need to accommodate and may not be able to fit your group as well. To avoid a hotel booking conundrum, plan as far ahead as possible and be sure to communicate with your guests about getting their bookings in early.
Don't get stuck in traffic en route to your wedding.
Since most metropolitan cities are bustling this time of year with festivals, conferences, and marathons, it's important to plan ahead for poor traffic conditions. You'll want to be aware of any major events happening in town and let your guests know which roads to avoid when they're headed to your celebration. If you're planning to hire shuttles to get guests to and from the wedding, the shuttle company should also be made aware of what areas to avoid.
Don't get too attached to seasonal produce and flowers.
You'll want to incorporate the beautiful seasonal bounty of fall into your wedding, both in the food and in the flowers. Plan ahead so you can get the best of fall's offerings, but also be flexible. The season isn't always precise as far as when certain flowers will bloom, so you don't want to get too attached to a seasonal item just in case it's not available.