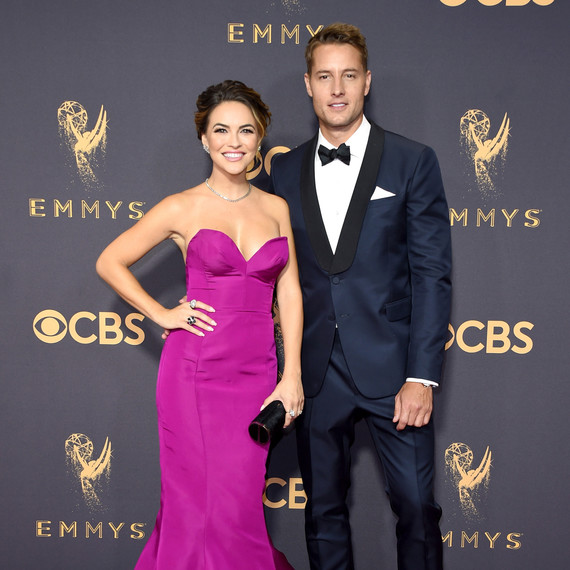 The last time Justin Hartley updated fans about his wedding, he revealed that he and his fiancée, Chrishell Stause, were "wrapping up all the planning and getting ready to get out there and seal the deal." According to the This Is Us star, they (and the rest of us!) are now officially in the waiting phase.
"We're almost done," the actor told People at the 8th Annual Veuve Clicquot Polo Classic on Saturday. "We hired a wedding planner to take care of all that stuff, and we're just sort of going to show up and have a good time." Hartley may sound nonchalant about the details, but that's because all he wants to do is marry Stause. "Just having her as my wife, to be honest with you," said Hartley, on what he's looking forward to the most about the big day. "It's like, I want to call her my wife. That will be amazing."
This is the second time Hartley has sung the praises of his wedding planner, who made the planning process fun and stress-free the couple. "She's doing all the hard stuff, so basically we just field phone calls, and go taste cake and food. We're having a blast doing it," the actor told Us Weekly in July. Right around that time, Stause revealed that she'll wear a Monique Lhuillier wedding dress down the aisle. "So exciting!" the Days of Our Lives actress wrote on Instagram, after receiving a swatch of her gown from the designer.
As for the couple's ceremony and reception, Hartley said that the duo had something "intimate" in mind. While we'll have to wait for more details about the actors' small wedding, one thing is certain—Hartley's teenage daughter, Isabella Justice, will be involved. "I think I'm going to have do maybe the ringer bearer and the flower girl, and maybe if she wants to she can sing," he told People last October.