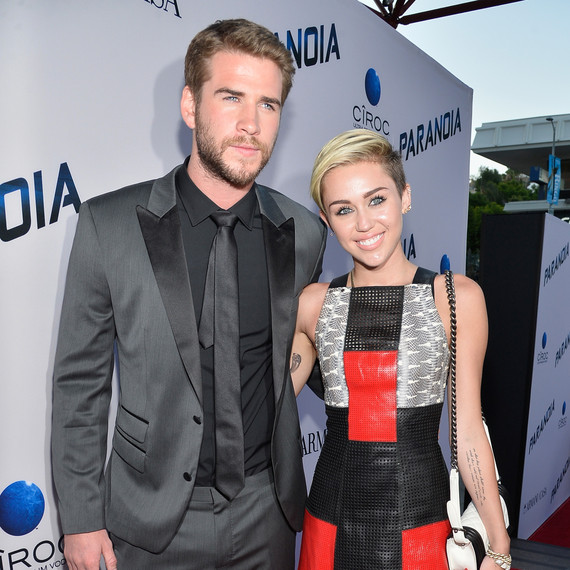 Miley Cyrus and Liam Hemsworth aren't planning a wedding any time soon, but the couple just got the ultimate blessing. On an Australian morning talk show, Dolly Patron, the Younger Now singer's godmother, couldn't stop talking about how wonderful Cyrus and Hemsworth are together. 
"She really lucked up with him," Parton said. "But I think he lucked up with her too. I think they're a good team." She also couldn't stop gushing about Hemsworth's good looks, so it sounds like Parton is on the same page as the rest of us. "Well I have to say, Liam, her sweet boyfriend is about the most-handsome thing I've ever seen." But, most importantly, she's thrilled that Hemsworth treats her goddaughter with love and kindness. "He is as nice as he is good looking," she added. 
Parton's words of approval came just days after the couple made their first public appearance in over a year. Cyrus and Hemsworth were photographed at the Thor: Ragnarok premier at the TCL Chinese Theater in Los Angeles, where they came out to support the Hunger Games actor's brother, Chris Hemsworth, on his big night. With family blessings and public appearances, it seems as if the couple are picking up steam. However, Cyrus is determined to take things slowly. "Three years ago, if you'd asked me if I'd be here, this happy with this man, I'd have been stunned," she said in September. "I'm just riding this out."
Since the couple became re-engaged earlier this year, Cyrus has also been open about the steps she and Hemsworth took to find their way back to one another. "I needed to change so much," she told Billboard. "And changing with someone else not changing like that is too hard. Suddenly you're like, 'I don't recognize you anymore.'"