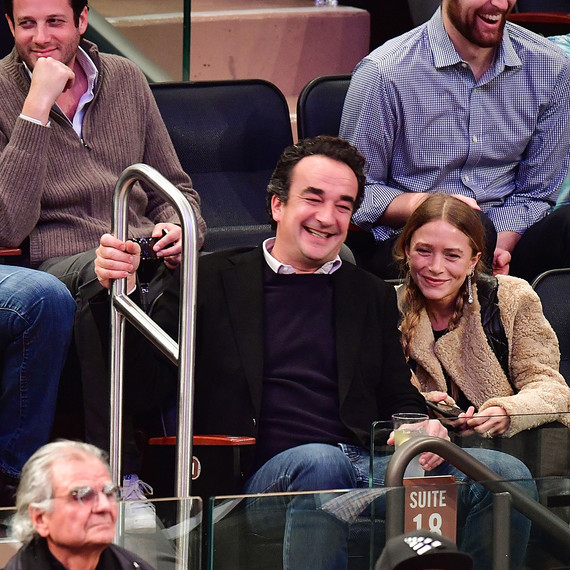 Mary-Kate Olsen and Olivier Sarkozy have always kept their marriage private and have only briefly referred to each other in interviews. Despite their silence, Sarkozy's sister-in-law, supermodel Carla Bruni, recently said that the two love married life.
On Watch What Happens Live with Andy Cohen, the supermodel and former First Lady of France said that Olsen and Sarkozy "seem so happy." "I met her at some cousin's wedding and she looked adorable and very kind and also Olivier looks very happy with her," she continued. Bruni also opened up about why she and her husband, the groom's brother, Nicolas Sarkozy, didn't attend the couple's November 2015 wedding. "They invited us and then we couldn't go because of a stupid reason, a geographical reason because we had to come over here [to the U.S.] and we couldn't." She might not have been there to hear Sarkozy and her new sister-in-law exchange vows, but from what she knows now, the pair are happier than ever.
As rare as it is to hear an Olsen and Sarkozy marriage update, it's even more unexpected to see them out and about together. But the two made a public appearance at a New York Academy of Art event last night, where they were spotted holding hands and posing for photographers. It's nice to see the couple in photos together, especially since none of their wedding day ever surfaced. The fashion designer and Sarkozy, a banker, became in engaged in February 2014 and married a year-and-a-half later in a secret Manhattan ceremony with 50 guests.
The last time we heard from the couple directly was in March, when Olsen discussed finding balance after her first year of marriage. "I have a husband, two step-kids, and a life," she told The Edit. "You find the thing that helps you relax and if you don't have it, you have to look for it."