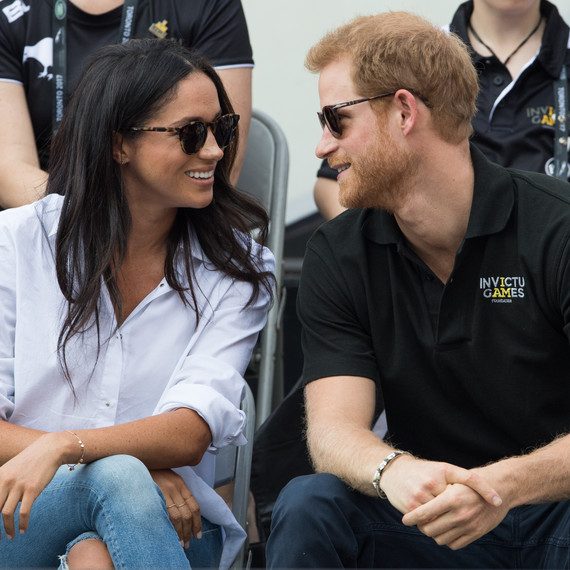 Ever since Prince Harry was photographed hanging out with Meghan Markle's mom at the Invictus Games, we've been waiting for that engagement announcement. He's clearly a part of the Markle family already. According to a source close to the couple, the two have actually been engaged for some time and are simply waiting for the perfect opportunity to share the news.
As it turns out, the right moment will be here sooner rather than later. The source told Us Weekly that we can expect to hear about the couple's plan to tie the knot sometime within the next month, after Markle wraps the final season of Suits in November. "It'd be a security nightmare to do it sooner," said an insider close to the actress. "She'd be followed everywhere!" It makes sense—as does her decision to wait until she can be at Kensington Palace, safely, before the news breaks. "She'll relocate to London for sure," the insider continued, where she'll allegedly participate in a "detailed media rollout."
It's likely, said the source, that the couple will replicate the engagement announcement from Prince William and Kate Middleton. The Prince and the Duchess of Cambridge revealed their news in a series of interviews in 2010, a whole month after William popped the question in Kenya. How will Harry and Markle tell their story? The couple "will most likely hold a small photo call at Kensington Palace, with just one photographer and journalist invited," said the source. "On the same day, they'll do a TV interview that will be syndicated around the world." According to the insider, the announcement plan is already in the works. "These things are planned early in advance," they said.
While none of this has been confirmed by Kensington palace—although, validation of news of this magnitude would ruin the surprise!—these speculations are credible, especially if we consider Markle's call for time and privacy in September. "We're in love. I'm sure there will be a time when we will have to come forward and present ourselves and have stories to tell, but I hope what people will understand is that this is our time," she told Vanity Fair. "This is for us. It's part of what makes it so special, that it's just ours."