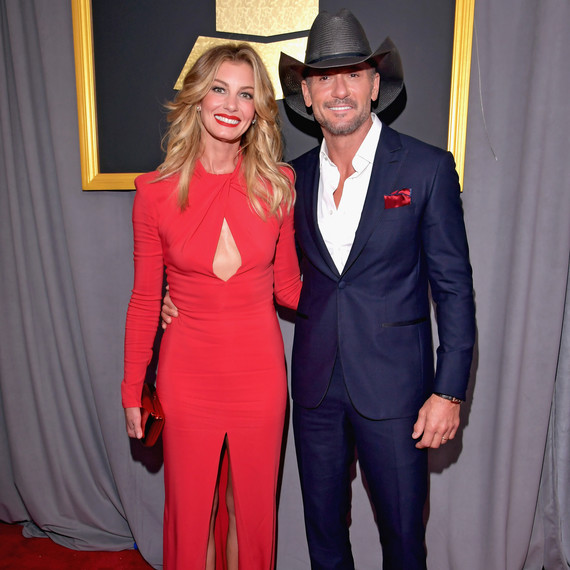 Tim McGraw and Faith Hill are celebrating their 21st anniversary in the best way—with new music! The married couple announced their first joint project back in March, but just revealed on Twitter that the album, titled "The Rest of Our Life," will be out November 17. To tide us over, they also released a romantic new single and music video.
"Excited to announce our new album and new single, The Rest Of Our Life. Thanx for being a part of our journey!" McGraw tweeted, along with a video clip of album's titular track. If the lyrics of the song, "The Rest of Our Life," is any indication, the album will be an homage to McGraw and Hill's strong marriage: "Oh, I'll be fine if one gray hair shows, I'll be fine if my waistline goes, I'll be fine even if time takes its toll, We'll stay young for the rest of our lives," the pair sings.
One of the masterminds behind these sweet lyrics? Ed Sheeran! E! News reported that the famous country music stars recruited the "Thinking Out Loud" singer's romantic writing skills to make the magic happen. The song's music video is just as sweet. While the video opens with McGraw and Hill arguing in a corn field and in the back of their car, it ends with the duo reconciling, emerging from a bar hand-in-hand, stronger than ever.
This isn't the first piece of music we've heard off the new album, though. The couple released "Speak to a Girl," back in March, after announcing the project. While the album does mark their first joint record, it won't be the first time McGraw and Hill have collaborated—among many others, McGraw's 2015 song "I Need You," featured his country music star wife. If anything, knowing how these two sound together is making us even more excited to hear their new songs.