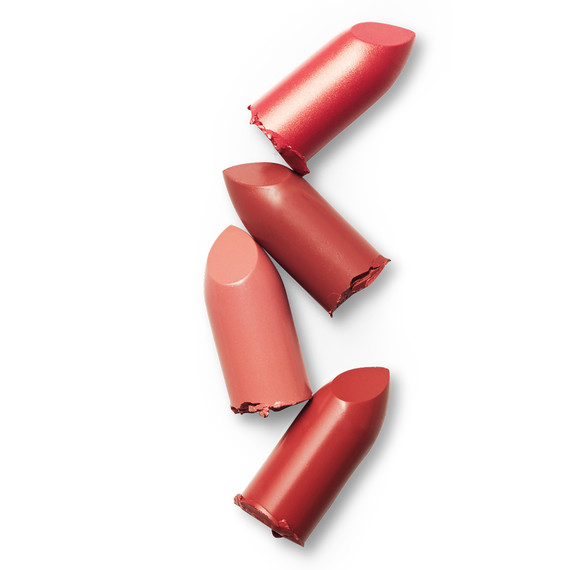 As the sun starts to set a little earlier and the air gets crisp and cool, it's time to think about making seasonal changes to your makeup look. Fall is a great time to add a little bit more color to your everyday routine, and our favorite way to do just that is with an autumnal lipstick shade. As your sun-kissed glow starts to fade, you'll have more freedom to add rich colors to your pout without looking overdone. Here are four lip color trends to get excited about this fall, plus picks for each color category.
Wine
This category of color includes rich bordeauxs and deep merlots, and the good news is that these shades look beautiful on all complexions. Bolder, darker lip colors were paired with smoky eyes on the fall fashion runways for an ultra-dramatic look, and the combo is perfect for a bride to try for her evening wedding. If you aren't feeling daring enough to rock this look for the entire night, apply the lipstick after the ceremony, or else use a lip tint or stain in these tones for a lighter appearance. Tarte's Glossy Lip Paint in shade "WCW" is a great middle ground.
Smoky Nude
Lip colors with a gray, cool tone to them fall into this category. The "greige" tone added to pinks and plums creates a cool modern look to lips, which bumps them up from a traditional nude look. If you are feeling like you cannot get out of your "Nude" comfort zone—these are fun colors to try without adding too much color. Anastasia Beverly Hills offers dozens of beautiful choices in her Matte Lipstick collection. Shades like "Dusty Mauve" and "Rogue"  fall into this trendy color family.
Chocolate
Rich brown shades are never going away, and the autumn months are the best time to wear these deeper colors. These shades can be worn day or night and look best with light neutral eye colors for a classic fall look. Bobbi Brown has cornered the market on this look, and her Lip Color in "Chocolate" looks great on everyone. Swipe a gold or shimmery gloss over these colors to lighten them up and make them look less severe. 
Cranberry
If you have fair skin with pinker undertones, know that cranberry is the perfect fall shade for you. These cooler colors deliver lots of color without being too warm or deep. Try It Cosmetics' Blurred Lines in "Brave" for that perfect pop of color with a glossy finish. Berry tones are also beautiful in matte formulas that won't budge. We like Cargo Cosmetic's Swimmables Matte Liquid Lip in "Sorrento." Whichever you choose, try and wear these shades with soft eye and cheek color for a fresh-faced fall look.