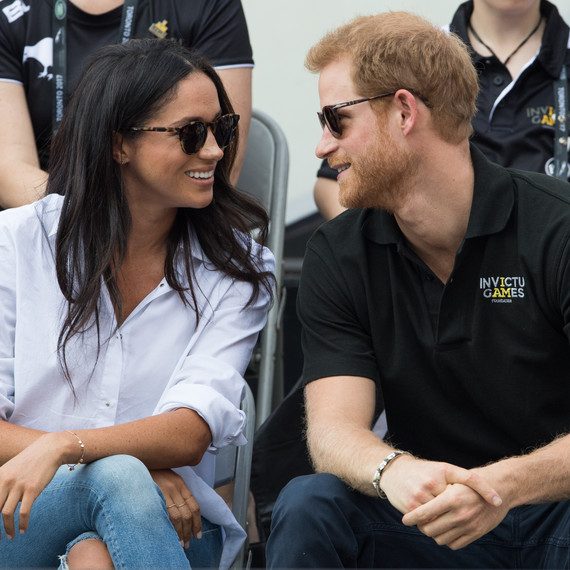 Prince Harry and Meghan Markle made their first public appearance at the Invictus Games last week. Since then, the couple's relationship has only gotten cuter. At the competition's closing ceremony, the duo was spotted chatting to a special guest—Markle's mother, Doria Raglan.
This was the first time the prince has ever been photographed with Raglan, a yoga instructor and social worker, but he was clearly comfortable around her. In their private booth, he and Markle shared a few kisses right in front of his potential mother-in-law. "Harry and Meghan were sitting next to each other, snuggling, kissing, with their arms around each other," a witness told Us Weekly. Earlier this year we discovered that Prince Harry has a good rapport with Markle's father, so it's nice to see that it extends to her mom, too!
Markle seemed to have no trouble reciprocating Harry's affection. Photographs show the Suits actress leaning on her boyfriend and laughing as he danced along to performer Bruce Springsteen. It also appears that Markle went backstage to support Harry moments before he delivered a speech to the hundreds of wounded service members competing at the Invictus Games. "They sneaked out of the box just minutes before Harry's closing speech," the eyewitness said. After coming back to the box to watch him speak, she "rushed out of the arena as soon as he finished."
It's sweet that Harry and Markle were able to spend some time together at the closing ceremony, since most of the fanfare required them to sit separately. If their smiles, stolen kisses, and comments are any indication, though, these two had a great time overall supporting a wonderful cause. "She loves it, she's loving the games," Harry confirmed, when asked about Markle's visit.