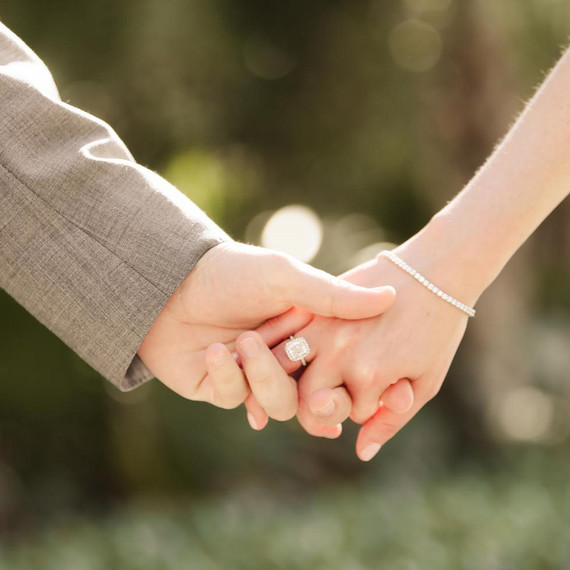 The final countdown—it can leave the best of brides feeling more than a little frazzled. Between tracking down errant RSVPs, listening to "helpful" suggestions from family members, and tackling an overambitious list of DIY projects, those last weeks before the big day are rife with opportunities for frayed nerves. And the biggest stressor most brides face, says Kristine King, president and lead event director at Kristine King Events, "is trying to please everyone." So, while it's fine to take your family's opinions into account, she says, "understand that it's okay for you to want something to be the way you envisioned." While daydreaming about your perfect nuptials, try these other stay-sane tips.
Embrace deadlines.
When scrawling out your list of must-be-completed items, set a deadline that's actually earlier than necessary, says King, who notes "a million details" will inevitably crop up in the last few weeks. And while putting together welcome baskets or crafting punny drink names are fun, they'll feel like a huge burden if you're still tackling the big-ticket items. Having an aggressive schedule, says King, "will allow extra time to address snags and deal with tasks you may not have thought of ahead of time.
Set the table.
Speaking of must-accomplish line items, creating a seating chart is a big one and "it tends to be a bit daunting," admits wedding planner and bridal coach Deborah DeFrancesco. To get through it with your sanity intact, start plugging people into tables as the RSVPs roll in and tinker with it as you go, she suggests.
Vow to accomplish this big to-do.
"I've seen perfectly capable and smart brides lose their minds while attempting to write their vows," says DeFrancesco. She suggests carving out time for yourself to jot down some thoughts early in the process, so you have plenty of time for edits.
Schedule a dress rehearsal.
If possible, suggests King, set up a walk through at your ceremony and reception sites with key vendors such as your florist and photographer. Reviewing the timeline and design vision for the day ensures everyone is on the same page, says the pro: "Brides will gain peace of mind knowing their team has met one another, seen the space and collaborated on specific items."
Hand over control.
All those relatives and friends offering their assistance really mean it. Take them up on their overtures and unload some busy work. Says King, "Once a bride releases some control to family and friends, a lot of stress dissipates."
Communicate.
Create a Google document or another online folder that can be sent to vendors, your bridal party, or anyone else pitching in on your big day. Sharing everything from the day-of-timeline to contact information for vendors ensures everyone is on the same page.
Remember the little things.
When you're so wrapped up in putting together favors and approving centerpieces, it can be easy to forget about some of the smaller tasks. "The littlest things can set off even the calmest bride," says DeFrancesco. Items to keep in mind: selecting a button-down shirt or robe to wear while getting ready so you don't ruin your hair and make-up and packing a pair of comfy shoes to slip on for dancing.
Let stuff go.
Those handcrafted escort cards you pinned in the early days were a fine idea. But if you still haven't touched them three weeks out, it may be time to let it go. Explains King, "One of the best pieces of advice that was given to me years ago was, 'It's okay if you don't get everything done. People won't know what you didn't get to finish.'" When you're staring at your to-do list, tackle the most important items first—the things you've decided you can't live without, she says, and go from there.
Bring in last-minute help.
If you don't have a planner, consider hiring a day-of coordinator to oversee the flow of the day. Says King, "Their main goal is to help manage and relieve stress for the bride and family so they can enjoy their day!"
Learn to relax.
Book a spa day, schedule a brunch with pals, take a stab at meditation or envision how blissed out you'll feel when you're celebrating your brand-new marriage on your honeymoon, suggests King. If all else fails, take a minute to scream into your pillow (no judgment!), then follow it up with a few deep breaths. "As crazy as it may seem in the moment," swears King, "know that in the end, it will all come together."