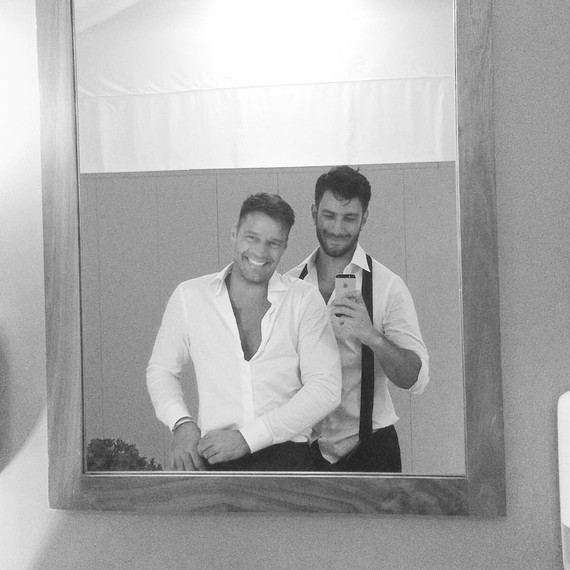 When Ricky Martin first met his fiancé, Jwan Yosef, he says everything fell into place. The singer and actor just opened up about knowing Yosef was "the one" in a recent interview with Ocean Drive Magazine. "I met Jwan, and from the moment we shook hands for the first time, I knew this was special. He felt the same thing, and then everything was so organic," he said.
The couple met on Instagram in 2015 and began dating six months later. After a whirlwind romance, they were engaged by November 2016. Since then, they've been planning their nuptials together, a process Martin described as "super overwhelming." "We want to do it right. We'll do the three-day event as I call it," he continued.
In order to make his wedding the best it can be, Martin knows that his children, Valentino and Matteo, have to be involved. "My role as a father is the one that I'm obsessed with," he said. "Every decision I make in my career or in my personal life is based on the well-being of my kids." The singer also plans on sharing his wedding with the world to show off his beautiful new family. "We're a modern family, and I think people need to see, and I want to normalize the beauty of our family. That's why I'm making it public and I am going to share my wedding with the world," he said.
He didn't disclose any specifics about the wedding, but Martin did mention that the pair would be married by the spring, a moment he's been looking forward to since he became engaged. The singer told Ellen Degeneres all about  the proposal in February: "I was really nervous. But I got on my knees and I took out—not a box—I just had them in a little velvet pouch," Martin said. "Instead of saying, 'Will you marry me?' I said, 'I got you something.' I said, 'I want to spend my life with you.' And he was like, 'What is the question?' [I said] 'Would you marry me?'"