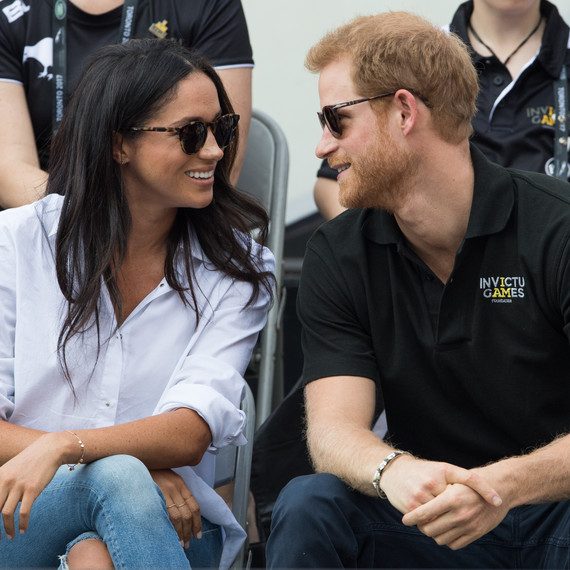 It looks like Prince Harry and Meghan Markle might be wedding guests once more! During the Invictus Games (which the duo enjoyed together as part of their first public outing), the Prince was invited to an athlete's nuptials. We have a feeling we know who he'd bring as a plus-one.
While chatting with former U.S. Air Force Master Sergeant Kyle Burnett, a cyclist taking part in the Paralympic-style competition, and his fiancée, Harry revealed that the Suits actress was inspired by the events. "I asked him how his girlfriend was enjoying it and he said, 'She loves it, she's loving the games,' which is awesome," he told People. By the end of the conversation, Burnett and his bride-to-be knew that wanted to ask the Prince to join them at their ceremony in June. "He was real personable and there was no sense of him being in the Royal Family," he said. "You can tell him that we are inviting him to our wedding."
Harry and Markle do make lovely wedding guests, but we're even more hopeful that we'll get to see them as bride and groom soon. The couple's appearance at the Invictus Games sent engagement rumors flying, but the Royal Family has yet to announce the news. However, on a visit to William Cowley Parchment Makers on Tuesday, Prince William side-stepped the speculation—but he didn't deny it. When the royal parchment company's manager joked about creating the duo's wedding certificate, William simply chuckled. "He just laughed—a nice laugh," the manager told People. Could this mean that another royal wedding is in the works?
Only time will tell, but one thing is clear: Prince Harry and Markle's bond is stronger than ever. "We're a couple," the actress told Vanity Fair. "We're in love. I'm sure there will be a time when we will have to come forward and present ourselves and have stories to tell, but I hope what people will understand is that this is our time. This is for us."