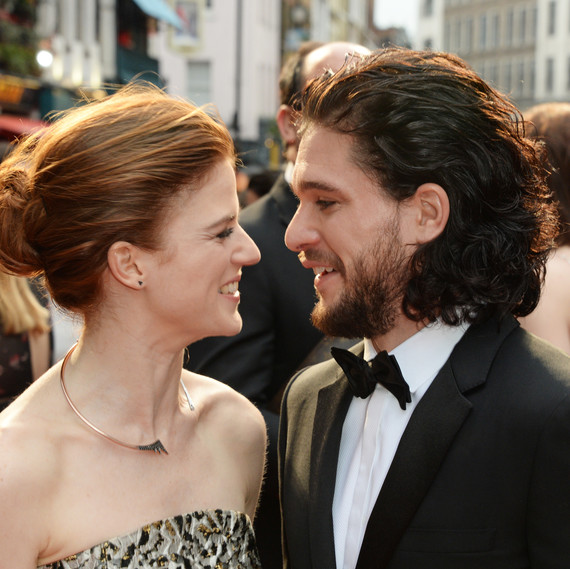 After five years of dating, Kit Harington and Rose Leslie are finally engaged! The Game of Thrones stars broke the news with a traditional wedding announcement in their local newspaper. "MR. K.C. HARINGTON AND MISS R.E. LESLIE. The engagement is announced between Kit, younger son of David and Deborah Harington of Worcestershire, and Rose, middle daughters of Sebastian and Candy Leslie of Aberdeenshire."
The engagement came just months after Harington revealed that he and Leslie had taken their long-term relationship to the next level. "I've moved in with my other best friend, Rose," he told James Corden in June. "I'm very, very happy and it's going well. She has all sorts of ideas for the house. I said to her—because she moved into my house—I said, 'Look, darling, it's important that this is our space, that it feels like our space and that you haven't just moved into mine. Move anything you want around—change anything or chuck anything out.'"
Harington and Leslie knew each prior to filming Game of Thrones, but it took their onscreen love affair to ignite a real-life relationship. A month after confirming that relationship, Harington opened up about falling in love with Leslie on set. "If you're already attracted to someone, and then they play your love interest in the show, it becomes very easy to fall in love," he told L'Uomo Vogue. 
Leslie agreed. "Kit is a lovely and funny man, and a dear friend," she told People in 2014. "It was always such a privilege to be working opposite him and such a blessing that we get on in real life because it made our characters more believable."