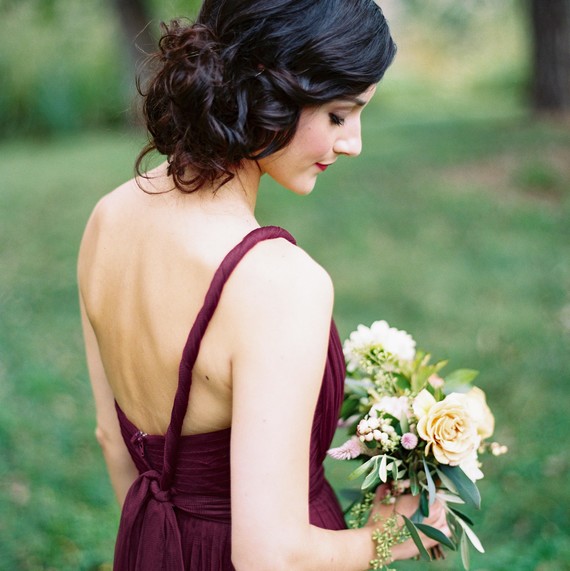 You may not be able to wear white after Labor Day—but that doesn't mean your friends won't. If you're one of the lucky few (you'll soon see why) to serve as a fall bridesmaid, read on. Experts Megan Cary of Megan Cary Hair and Makeup Artistry and Amanda McKnight of Southern Sirens share their top tips so to keep you looking and feeling your best during crisp autumn nuptials. Autumn 'maids, consider this your guide to being the best attendant this season.
Even out your tan.
Summer's greatest souvenir can quickly become a bridesmaid's worst nightmare. For tan lines that just won't quit, Cary and McKnight offer a variety of different tricks. According to McKnight, your first option is to head to a professional. Whether you visit a tanning salon or ask your the wedding makeup artist for help, an expert can address your specific problem spots with ease. If the DIY route is more your style, Cary has one word: exfoliate. "This will help bring your face, neck, and shoulder areas back to or as close to your original skin color and create a smooth surface to work with," she says. From there, use matte powder to match the darkest part of your tan. But Cary warns that 'maids to be careful when choosing your powder, as "shimmer bronzer has reflective properties that will attract attention to your coverage," making it very noticeable that you are trying to hide something.
Check yourself. 
If tan lines aren't an issue, congrats! But you're still not out of the woods on the skincare front. "As we transition into the fall and winter months, be sure to check your foundation colors to make sure they still match your skin," advises McKnight. You may not have noticed the gradual change in your skin over the last few weeks, but foundation tells no lies. This is particularly important if you'll be applying your own wedding-day makeup.
Be prepared.
If you're in a place that truly experiences all four seasons, you know fall weather can be all over the place. What starts as a warm day can turn windy and then crisp all in a matter of minutes. To come out unscathed, be prepared. Pack a discreet fan or blotting wipes to cool down quickly after midday photos, plus a chic shawl to have on hand when temps drop in the evening. 
Pick a new palette.
As the leaves change so must your makeup palette. Luckily, these seasonally-appropriate hues look flawless on every skin type. "You will want to stick with, or have your makeup artist stick with, the colors burgundy, bronze, burnt orange, gold, berry, or taupe," says Cary. "A popular technique and one of my favorites to do is monochromatic—staying within the same color scheme just using different shades." This vibrant style is the perfect way to change things up while still looking glam. Once the makeup artist leaves, it'll be on you to keep your look festive for fall, so break out your favorite berry-hued lipstick for reception touch-ups.
Count your blessings. 
Close enough to summer that you aren't pasty, far enough out from the dog days that you aren't sweaty, and still warm enough to mingle outside? Buy this bride a drink—you've hit the bridesmaid lottery. Autumn weddings really have a special place in our hearts, and after you wrap up your job as an attendant between September and November, we think you'll agree.