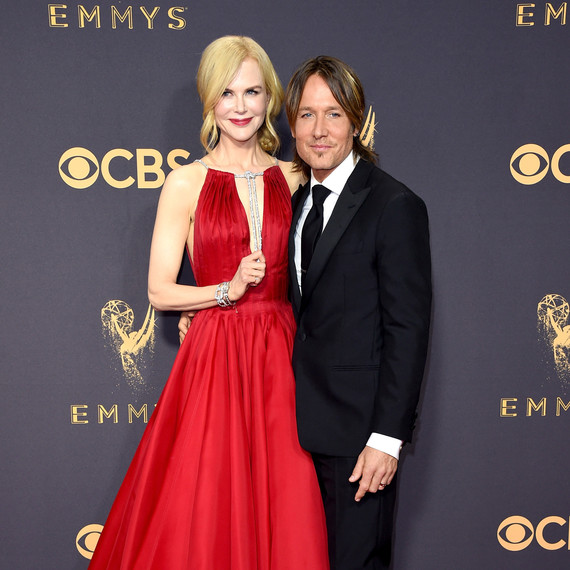 When Nicole Kidman won her first-ever Emmy Award on Sunday night, her husband, Keith Urban, looked like the proudest man in the room. As his wife of 11 years took the stage to accept the Outstanding Lead Actress award for her role in HBO's Big Little Lies, he could hardly hold back his tears. After Kidman's acceptance speech—she dedicated the award to Urban for his "sacrifice"—there wasn't a dry eye in all of Microsoft Theater.
"I also am a mother and wife. I have two little girls, Sunny and Faith, and my darling Keith, who I asked to help me pursue this artistic path and they have to sacrifice so much for it. So this is yours," she said, with her eyes on her husband's. Urban nodded along as his wife spoke, showing the strength and depth of their relationship.
Kidman also dedicated the award to her young daughters, who missed time with their mom while she was busy filming Big Little Lies. "I want my little girls to have this on their shelf and to look at it and go, 'Every time my momma didn't put me to bed, it is because of this.' I got something," she said.
SOOOOOOO proud of you baby - and Reese and ALL the BLL family!!!!!!! - KU #Emmys

— Keith Urban (@KeithUrban) September 18, 2017
Before the award show began, Kidman, in a crimson Calvin Klein gown, and Urban hit the red carpet to pose for cameras and flash their strong bond. After the ceremony, Urban posted a congratulatory tweet, praising his talented wife for her poignant performance and deserved win. "SOOOOOOO proud of you baby," he wrote. "And Reese and ALL the BLL family!!!" If that doesn't scream proud husband, we don't know what does.