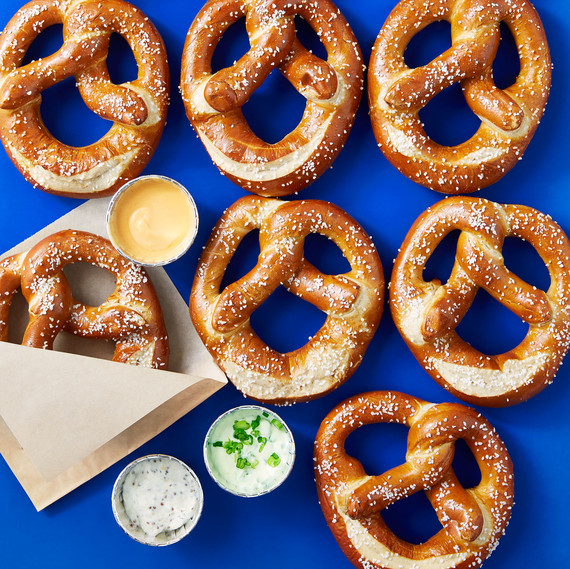 With another fall season comes another Oktoberfest—a traditional, amusement-filled festival in Germany. What many don't know is that it started as a wedding celebration, and only later evolved into a food- and beer-focused fête. If you love Oktoberfest—and especially its origin—try one of these ideas for incorporating the event into your big day.
Bavarian Bites
A soft-pretzel station is a genius way to feed hungry guests toward the end of your reception. Alternatively, you can pass them at your cocktail hour, or serve them at a more casual event, like your rehearsal dinner or engagement party. Make them even more delicious by serving some delicious and unexpected dips as a pairing for your twisted treats.
New York Pretzel Jumbo Soft Pretzels, $35 for 50, nypretzel.com. Restaurantware Pleated Baking Cups, $38 for 200, restaurantware.com. Jilly Bean Kids Kraft Pretzel Bags, $2 for 10, jillybeankids.com.
Festive Photo Booth
Planner Calder Clark recommends using the event to inspire your wedding's activities. "Guests love a little ice-breaker, and what better way to up the ante than to deploy a photo booth with Oktoberfest-inspired props? Think suede lederhosen, knee socks with tassels, heavily-braided blonde wigs, corseted dirndls, and more."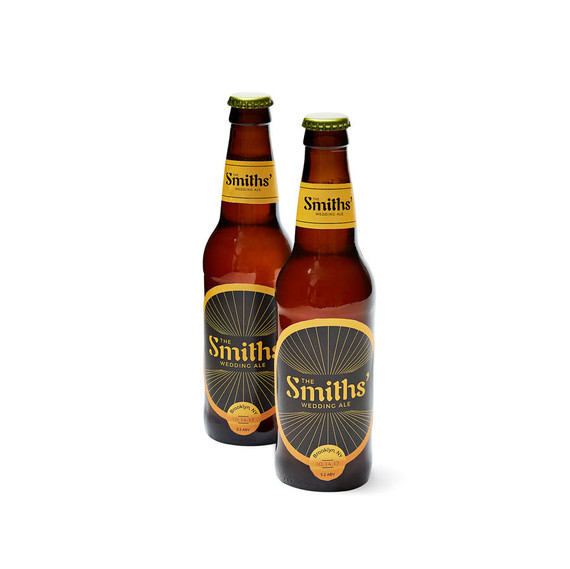 Brew It Yourself
It's easy to personalize bottles of beer you love for your wedding bar with these labels. Download the PDF here, then click "Edit text and images" in the "Edit" dropdown of your PDF viewer to change the wording. Print on large mailing labels (we like Avery WeatherProof Mailing Labels for Laser Printers), then place over the existing labels to rebrand your brews. If you want to go the extra mile, however, brewing beer yourself makes for the ultimate customization. Certain businesses—like Brooklyn, New York's, Bitter & Esters—let you take part in the process.
Bitter & Esters Custom Craft Beer, from $450 for 144 12-ounce bottles, bitterandesters.com.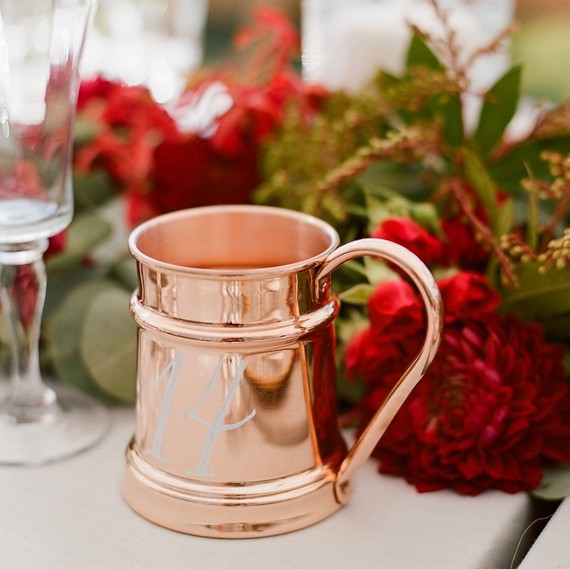 Mug Accents
Planner Jenna Lam suggests using drinkware to spruce up your reception. Try finding "traditional beer mugs in more modern materials, like copper, to use for festive table numbers," she says.
Beer Garden
If you want to go all out, A. Dominick Events advises decorating your venue space like a beer garden. Alternatively, simply book one for your wedding—or for a bachelor or bachelorette party.