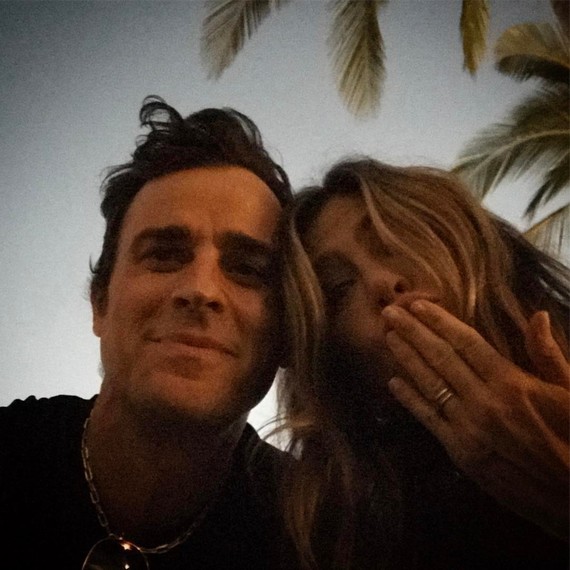 Jennifer Aniston's wedding details have long been a mystery, but lately—and slowly—they've been trickling out. This past spring, Justin Theroux revealed a little bit about the day, and now it's clearly Aniston's turn to share. In a piece for Harper's Bazaar, the actress spoke with Amy Sedaris about her marriage and her big day.
Sedaris, who is good friends with Theroux, brought up the couple's nuptials in her interview. "Everything about that wedding was perfect. Everyone was dressed like a bunch of woodland creatures, and your dress looked so beautiful and breezy," she recalled. Based on Aniston's daily style, it's not hard to imagine that she looked effortlessly beautiful as a bride.
She also shared that she and another star had special roles in the ceremony. "Justin asked me to be his best man two days before, and I was really scared. Jimmy Kimmel [who officiated at the nuptials] said, 'Amy, you have one job: Just hand me the rings separately.' Of course, I handed both to him," she admitted. It turns out Sedaris isn't the only one still playing back the wedding—"It's funny, I just gave Justin our edited video of the wedding for our anniversary, and it was fun to revisit it," Aniston added.
Later in the interview, Aniston also brought up when Theroux popped the question. Her first thought after getting engaged was hilarious. "When Justin proposed he put that freaking ring on my finger, and I was like, 'Holy crap, now I'm gonna have to get manicures,'" she confessed. Aniston and Theroux have been married for two years and got engaged in 2012.